Last week we were invited to the set of V in Vancouver, where I had the opportunity to interview Elizabeth Mitchell, Morena Baccarin, Joel Gretsch, Morris Chestnut, Lourdes Benedicto, Logan Huffman and Laura Vandervoort. Unfortunately, Scott Wolf was not available that day due to scheduling conflicts.
We were brought into the FBI offices on set, smack dab in the middle of a giant stage that also houses the television home of Erica and Tyler Evans, as well as Ryan and Val's apartment. V is filmed on an impressive set that spans several stages and locations, including an amazing green screen facility that immediately brought to mind, on a smaller scale, the technology responsible for the stunning beauty of Avatar.
Right now they are in the middle of filming the final four of the remaining eight episodes for Season 1 of V, which will air beginning next week (March 30) when the series returns in its new time slot after Lost on Tuesday nights.
There were several substantial secrets that were dangled in front of us as we stood on the precipice of great surprise at the end of the first four episodes, including a few maternal curiosities.

Laura Vandervoort, who plays recruiting Visitor and coy seductress Lisa, was shocked to learn that Anna was her mother. "That was a huge bombshell, and it opened up some great storylines for me, so I was excited that there was that kind of attachment to her…as she's next in line for Queen V." Vandervoort also hinted that Lisa's role as ambassador "has gotten a lot juicier" and is very interested to discover who Lisa's father might be.
Fans of the original V miniseries are highly anticipating the arrival of an alien child, and Morris Chestnut assured me that "the baby is coming!" for Ryan and Val. Ryan has been living a double life as a caring human being who has concealed the fact that he is a Visitor, and Chestnut says that "there does come a point where I have to make a decision. Am I going to be with Val or fight the fight with the Resistance?"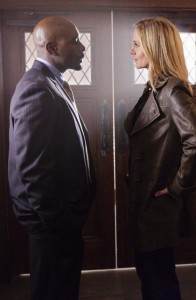 Stay tuned for my conversation with Elizabeth Mitchell about playing Agent Erica Evans, and to hear Morena Baccarin's perspective on Anna (as well as both of their thoughts regarding the pending battle between Mother Earth and Mother Ship). I will also be sharing Logan Huffman's speculation about Tyler's dad, Lourdes Benedicto's take on Val's pregnancy and Joel Gretsch's approach to playing a man of the cloth.
In the meantime, don't forget to tune in to the special "V: The Arrival" clip show featuring a recap and scenes from the first four episodes, tonight on ABC following Lost!