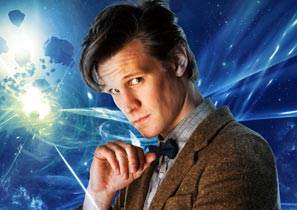 If you thought that the Doctor was in dire straits at the end of "The Pandorica Opens," guess what happens in the upcoming season of The Sarah Jane Adventures. Let me give you a hint: "Death of the Doctor." Well, that's the title of episodes four and five of the season, anyway, which just happen to be the episodes in which Matt Smith is guest starring.
If you're unfamiliar with The Sarah Jane Adventures, it's one of the three currently-running spinoffs of Doctor Who (along with Torchwood and K-9). Unlike Torchwood, however, Sarah Jane is filled with a little more humor, and is more skewed toward a younger audience than Torchwood's adult audience. It stars former Doctor companion Sarah Jane Smith, who appeared alongside the Third and Fourth Doctors before reappearing in the series three episode "School Reunion" along with the Tenth (David Tennant). Though her interaction with the Doctor seemed at an end considering their silent goodbye in "The End of Time," it seems that's not quite so.
The episodes, written by Russell T. Davies (who still is a writer for Torchwood and The Sarah Jane Adventures but not Who). What's the plot for Sarah Jane's death-themed Doctor outing? Not much, according to DoctorWhoTV:
Plot details are still thin on the ground, but we know it will feature a secret base beneath Snowdon and new alien race called the Shansheeth, who are described as 'vulture undertakers'.
No word yet on whether the Doctor will be accompanied by his companion, Amy Pond, in this appearance, as she has been signed on to appear in Doctor Who season six. However, the Doctor's appearance in Sarah Jane might just be all we see of him between "The Big Bang" and the 2010 Christmas special. However, compared to the Who-lite 2009, the break should fly by.