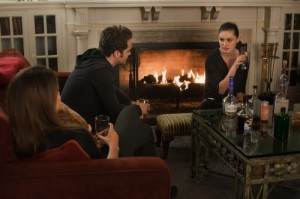 When we visited the set of The Secret Circle in Vancouver last month, they were filming episode 8, so this episode holds a special place in my heart, especially after we had to traipse through the dark woods at night, covered in rain. The woods are the very setting for the November 3 episode, entitled "Beneath".
In episode 8, Cassie gets worried after not hearing from her grandmother for several days. So she and the rest of the Circle decide to take a little road trip up to a lake house to try and track down Jane. Jake gets invited along, which Adam is not very pleased about. When a storm means that the group is stuck in the house, they decide to let loose a little bit. So what do you get when you mix some teenagers with some alcohol and a dark and stormy night? The answer, of course, is Truth or Dare.
When Faye suggests they play the game, she may or may not have envisioned how it would turn out. One thing that arises from the game is a kiss between Cassie and Jake. But Faye no longer has any need for games when she is forced to "reckon with someone from her past", which results in the poor girl venturing out in the storm.
Below is a trailer for the November 3 episode of The Secret Circle.