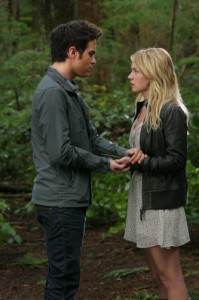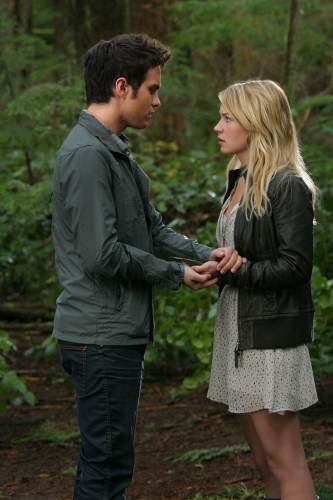 I'm very excited about the debut of The Secret Circle on The CW this coming fall (where it will air at 9:00 p.m. on Thursday nights after The Vampire Diaries).
The Secret Circle is based on a book series of the same name written by L.J. Smith (also the author of The Vampire Diaries books). Produced by TVD showrunner Kevin Williamson, The Secret Circle stars Britt Robertson as Cassie, a normal and happy teenager until her mother dies in a fire. She moves to Chance Harbor, Washington to live with her grandmother Jane.
After meeting some friends at school – including the friendly Diana (Shelley Hennig), her boyfriend Adam (Thomas Dekker), the girl Faye (Phoebe Tonkin) and her friend Melissa (Jessica Parker Kennedy), and the moody Nick (Louis Hunter) – Cassie realizes that these people know a lot more about her than she does.
The truth is, Cassie is a witch, as are her highschool friends, who want her to join their Secret Circle coven and complete their circle. But after Cassie finds a letter from her mother in an old spell book, she realizes her destiny is a lot more dangerous than she could have anticipated.
Gale Harold will also be appearing as Charles Meade and Natasha Henstridge as Dawn Chamberlain.
You can view promo photos for this new series that we posted earlier this morning here, and take a look below at the first trailer for The Secret Circle.

clarissa @ tvovermind.com
twitter.com/clarissa373
twitter.com/tvovermind