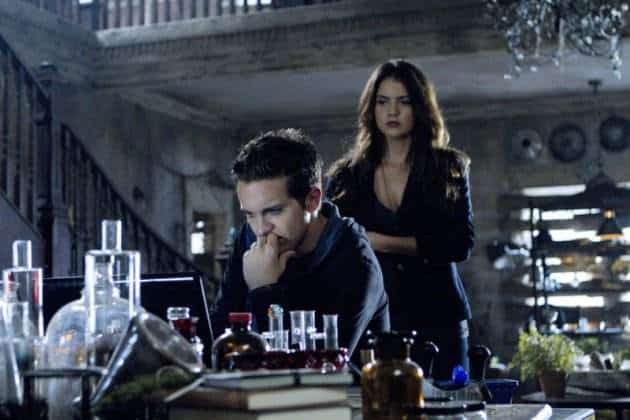 The Secret Circle was delving into Cassie's dark magic lineage when the show went on its midseason show. When it returns on January 5 with an episode titled "Darkness", The Secret Circle will continue to focus on Cassie and her Balcoin/Blackwell legacy.
I had the opportunity to screen the episode early and I have a few spoilers to share with you.
Say Hello to Another Elder. These Elders keep popping up on The Secret Circle. While Jane has headed off to a healer to get help with her recent problems, Kate – Charles' mother – has come to town. Diana is thrilled to see her grandmother, although Charles is singing a different tune. Kate's very intuitive and soon pays a visit to Dawn, asking her exactly why so many strange things are happening in town. She's highly suspicious of Dawn, especially once she learns of Charles' and Dawn's "relationship' from Diana. The Elders definitely aren't to be messed with.
Cassie's Descent into Darkness? Like I said, the episode focuses heavily on what effect her dark magic has on Cassie. She quickly tells Adam what she learned about her Balcoin/Blackwell ancestors from Jake, but wants to keep it a secret from the other Circle members. Unfortunately, Diana finds out the truth when she sees Adam researching dark magic for Cassie and he spills the beans to her. Cassie feels betrayed and lashes out, which results in her accidentally hurting Adam. Faye and Melissa become wary of her and her powers, although both Diana and Adam are trying to be understanding. But you'll get the sense that Cassie feels sort of alienated from the others as a result of her special abilities. Later, Kate is able to tell Cassie a bit more about her lineage and dark magic. And she has a plan to deal with the situation. What happens next? You'll have to wait and see.
Charles vs. Dawn – Will Cooler Heads Prevail? After being visited by Kate, Dawn panics and tells Charles that their plan is in danger, especially if someone like Ethan spills the beans to Kate. We learn a bit more about why Dawn is so furious at the Elders. Her solution is to get rid of all of them, including Kate. Naturally, Charles isn't keen on killing his own mother and wants Dawn to relax, because he'll come up with a solution. The question is whether Charles will be able to control his mother, and what Dawn will do next.
Guess Who's Coming to Dinner? Part of the episode takes place at a small impromptu dinner party at Diana and Charles' house, which is filled with tension. Diana invites Cassie to stay while Jane is out of town and Dawn decides to crash the party. Kate takes an interest in Cassie, but is annoyed that Dawn has shown up.
Faye & Melissa Delve into the Unknown. After Faye manages to swipe a voodoo spell from Cassie's Book of Shadows, she tells Melissa that she's interested in delving into more unknown magic in an attempt to get her individual power back. But when the ingredients for the spell aren't anything they've worked with before, the girls are off on a road trip to procure these items and some help from someone they found on the internet.
Browse through episode photos and watch a trailer for the January 5 episode of The Secret Circle here. And don't miss the episode, beginning at 9:00 p.m. ET on The CW.