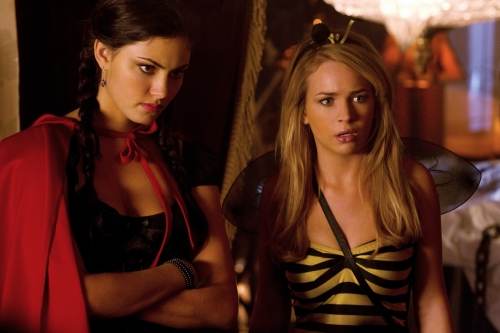 The Circle mourned Nick in this week's new episode of The Secret Circle, but got a surprise when his older brother Jake came to town. Jake wasn't exactly welcomed with open arms. Adam hated him because Jake had stolen from his father's restaurant a long time ago. He was also rather jealous that Jake and Cassie seemed to have a connection. Faye hates Jake because they used to date and then he broke her heart. Diana is starting to realize that Adam's focus has shifted a lot to Cassie and Melissa is just upset about Nick's death. Adam's father also told Diana that Adam and Cassie are fated to be together, which she wasn't happy about, but she made the choice to break up with Adam.
Jake also has some baggage in the form of a mysterious woman who followed him to town and attacked Cassie. Charles is experiencing guilt over his role in Nick's death and Dawn is trying to make sure he doesn't expose them.
Chance Harbor celebrates Halloween in the October 27 episode of The Secret Circle. Faye convinces Cassie to throw a Halloween party to ensure the Circle has a little fun. But some dangerous and uninvited guests decide to crash the party. Faye has once again set her sights on Jake and wants to attract him with a sexy Halloween costume. Meanwhile, when Diana and Adam get into a fight, Adam decides to ask Cassie for advice.
Below in a trailer for the October 27 episode of The Secret Circle.