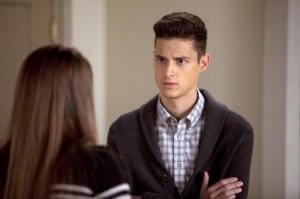 Until the previous episode, everyone on The Secret Life of the American Teenager was hiding in their eggshells, but everything changes tonight when everyone will have to make the decision that they will have to live with for the rest of their lives and Amy is scared to lose everything on The Secret Life of the American Teenager.
Tonight, not only will decisions be made, but everyone will also have to face the brutal truth about who they are and what they want in life. Also, Ricky tries to find a way to support Amy's dream of going to Hudson University, despite everyone's reservations about their relationship. Amy worries about her future when her meeting with the college counselor doesn't go quite like she'd expected.
Adrian is furious when Omar asks her to move to New York. Jack considers suing the university for failing to prevent his attack. Meanwhile, Ethan is determined to learn the real reason Don is in town.
Watch a preview from tonight's episode below and view the photos here. The Secret Life of the American Teenager airs 8/7c tonight on ABCFamily.
http://youtu.be/tKOdn6UFcUg