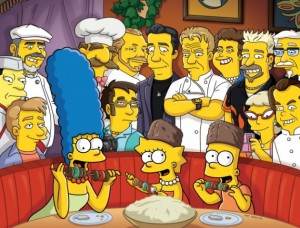 In tonight's episode of The Simpsons, entitled "The Food Wife", Marge, Bart and Lisa become professional foodies. The episode begins with Homer taking Bart and Lisa to a video game convention as a reward for good behavior. The kids have an amazing time, but Marge is understandably upset by how much Bart and Lisa consider Homer to be the "fun parent". So she decides to take them for a Saturday excursion, which ends up being horrible.
On their way home, however, their car breaks down in the middle of an ethnic district of Springfield and they pop into an Ethiopian restaurant. While they're hesitant at first, Bart, Marge and Lisa end up loving the local cuisine. A meeting with some foodies in the restaurant lead the trio to start up their own food blog called 'The Three Mouthketeers". Their blog becomes so popular that they end up scoring an invitation to one of Springfield's most exclusive modern scientific restaurants. But what happens when Homer is upset about being excluded from all the fun activities? Will Marge's dream with celebrity foodies and chefs Anthony Bourdain, Gordon Ramsay, and Mario Batali (guest voicing as themselves) convince her to invite Homer along?
Watch four sneak peeks below for tonight's new episode of The Simpsons.