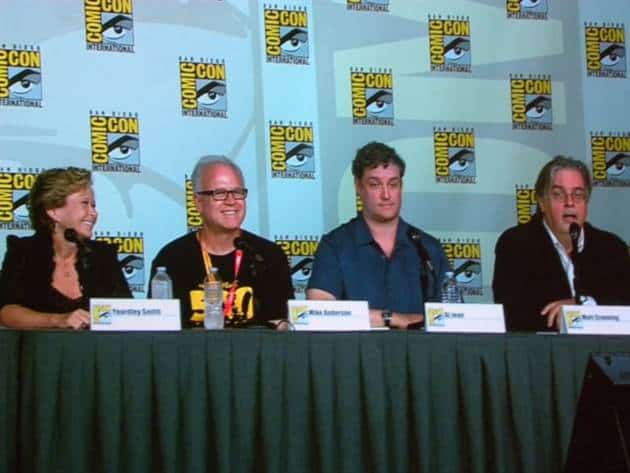 In case you didn't know, The Simpsons are an institution of animation and television. About to enter it's 24th season, it is one of the longest running shows on television. Creator Matt Groening, EP Al Jean, supervising producer Mike Anderson and Yeardley Smith, the voice of Lisa Simpson were on hand at Comic-Con to discuss the upcoming season of the show and give the audience sneak peek at the annual Treehouse of Horror episode and the new Simpsons theatrical short, The Longest Daycare.
Here are some highlights from their entertaining Comic-Con panel in Ballroom 20:
1. In one act of this year's annual Treehouse of Horror episode, a mini black hole from and accelerator lisa wanted will start sucking everything and everyone in Springfield into it. One particular funny moment happens when the hole refuses to eat Bart's math homework.
2. When asked if they've ever thought of doing a broadway play, Groening says they haven't but that he thinks it would be a great idea. Producer Mike Alexander says they all love the Book of Mormon.
3. So will there EVER be any permanent changes to the family? Like will the kids finally move up a grade or get older? Next year Bart is actually going to have a birthday and he's going to turn…. 10 years old, just as he has been for the past 23 years. They did once make a permanent change when Lisa became a vegetarian and kept her that way as they promised Paul McCartney that they would do so.
4. Homer's ear is made of Groening's initials and when a young girl asked him this question he asked for an easel to show us then gave the drawing to the young fan. (Aw!)
5. Asked about what shows he likes, Groening mentioned Regular Show and said "I am a huge fan of Adventure Time." He went on to share that the mother of the creator of Adventure Time once brought him over to his house and asked for his advice on how to run his own animation show. Though he doesn't remember the advice he gave, he assumes it must have been good given the success of the Cartoon Network phenomenon.
6. Panel moderator David Merkin brought out Comic-Con favorite, Carrie Fisher on stage with a big stuffed duff beer can. A funny scene ensued as the panelists discussed whether or not she had been on the show before.
7. The Longest Daycare screened for the audience to a room full of laughter. The short film focused entirely on Maggie and her quest to save a butterfly from one of the other kids at her daycare. It is available to be seen in 3D prior to Ice Age: Continental Drift, which is out in theaters now.
The Simpsons is on Sunday nights on Fox at 8pm.