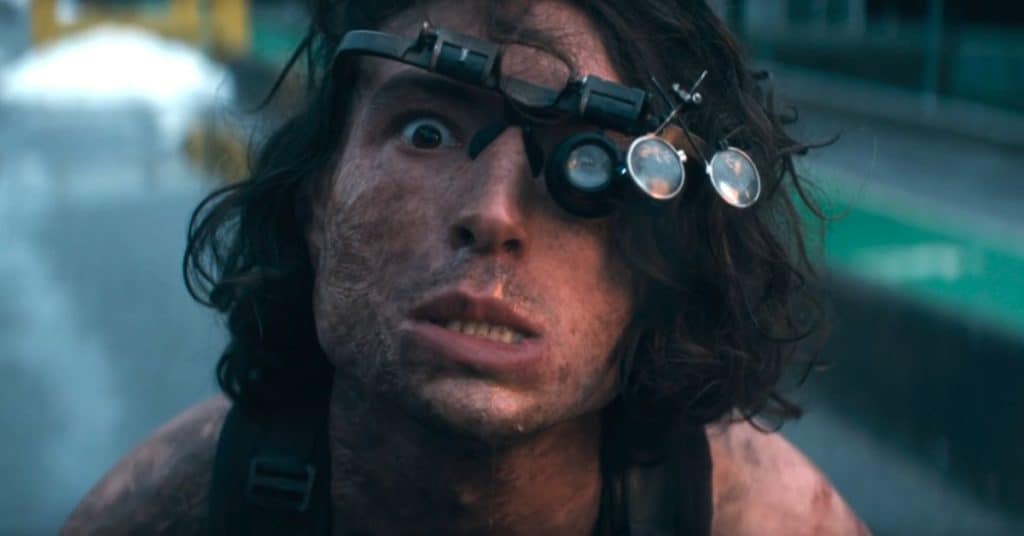 Well, we've finally been introduced to the Trashcan Man in this episode, and he's every bit as disturbing as people thought he was going to be since Ezra Miller, got to give props to the guy, made him an even more uncomfortable individual than Matt Frewer did back in the 90s. He's still an insane pyromaniac, but Miller's ability to put even more edge into this character as he apparently masturbates to an explosion is bound to have some people thinking that he went a little too far, or that the show did. But it definitely brings a very realistic edge to the character that feels dulled down now in the 90s version. Frewer played a slightly more toned-down version, but his devotion to Randall Flagg was no less than this version's since Flagg is, as usual, promising what the individual wants most, and for Trashcan, that's the ability to watch it all burn, and to be there when it does. But oh yeah, Miller turns on the crazy and dials it up past 11 for this performance, going so far as to be a raving nut that even Lloyd can't really stand since he dares to question Flagg concerning Trashcan and has to be reminded who's in charge when Flagg barks at him about one of the spies from Boulder, and how he wants her alive. That didn't turn out so well, but I'll get into that in a bit. 
In the meantime, things in Boulder are only getting crazier as Mother Abigail, having walked out into the night seeking God's wisdom, is confronted by Flagg, who can appear wherever he wants apparently and has no limits or boundaries on his power. But while he attempts to convince Mother Abigail to simply roll over and die, the old woman isn't about to budge, no matter how Flagg attempts to convince her that it's the best way out. Those that read the book know that despite being a frail old woman, Mother Abigail is a presence that can feel as though she's been cut from stone, and won't be moved no matter how much the enemy tries. But in facing down Flagg it does fee las though she's given something that will be the end of her since the human spirit might be tougher than Flagg, but the human body still has many frailties that can be exploited. It might be that the next episode or the one after it will be Whoopi Goldberg's last if the book is still being followed, but we'll have to wait and see. 
Harold and Nadine's plan has been implemented, and one might have thought that someone would eventually move the tube that Nadine laid down, but obviously that wasn't the case. Frannie and Larry suspected something of Harold, but their suspicion wasn't enough until Frannie finally found her way down into Harold's basement, where she was horrified to discover Harold's secret workshop and his plan. One thing about this Harold Lauder is that when compared to the actor that took over the role in the 90s miniseries, this character is decidedly cold and far more convincing when it comes to the fact that he's turned the corner and has no plans of coming back. With the knowledge of what's coming some people might state that there's still at least a little hope for Harold at this point, but given what we know about him, it wouldn't have mattered if everyone had been ready to forgive him and welcome Harold back with open arms, his fate was pretty much written when he was still a younger character and was raised in a home that didn't appear to be nurturing in the least bit. In a sense, Harold's fate was already set, as the outcome feels as though it would have changed all that much no matter how things had turned out. Nadine at least tried to fight her fate, but Harold went slipping and sliding into his with a great amount of uncertainty and fear, but what's happened has forced him to come out the other side a far different creature. 
There's quite a bit happening now, from Flagg ripping out a subordinate's heart after beating him to death for killing a spy that he'd wanted alive, to Tom finally realizing that it was time to run, and of course, to the explosion that decimated Mother Abigail's home and claimed several lives in the process. It feels fair to say that things are only going to heat up as the story goes along and that in the next several episodes people are going to be staring aghast at what is yet to come. That's the point though, as things are coming to a head and the battle between good and evil is finally starting to shape up.