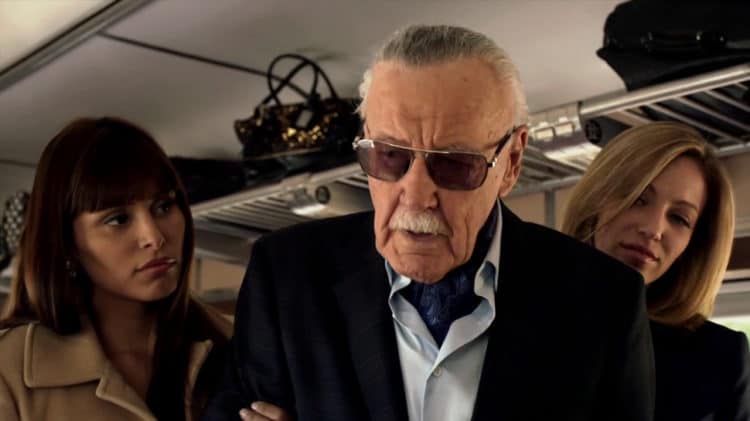 Karl Smallwood of Today I Found Out dishes out an interesting story that goes back to how the whole cameo thing with Stan Lee started in Marvel, and it's kind of a long story but it makes a great deal of sense and gives people a bigger look into the why and how of the cameo that so many came to enjoy. It's insane to think that at one time Lee was actually thinking of quitting the comic business since he was trying to break into writing actual literature that would allow him to step away from the comic book world and do something he considered a little more serious. But thankfully he was given a little more freedom as time went on and was allowed to create the heroes and villains that have been so iconic throughout the years. The cameos actually started in the comics to be perfectly honest, and they were done in a way that was rather comical, no pun intended, as he and Jack Kirby and a couple of others were written a time or two just to make the story more interesting and break the fourth wall in a way that has been priceless for a long time now.
Miss Cellania from Neatorama has even seemed to indicate that a part of his success had to do with his wife Joan, who Stan met when he was still pretty young and managed to woo despite the fact that she was married at the time. Joan wasn't a comic lover apparently but she was a big supporter of her husband and encouraged him to do his own thing after a while, stating that the worst that could happen would be that he would be fired. Since Stan had thoughts of quitting anyway, she was offering him support to do what he felt was right even if it led to the outcome he'd already been seeking. That support would eventually give way to a host of ideas that led Marvel comics to become one of the biggest names in the world when it came to entertainment, and as a result would catapult Lee into the entertainment stratosphere as Marvel became the number one contender for DC comics, and at times the top dog in the industry. Even now a lot of people would say that Marvel and DC are about as even as they can be in terms of fans and popularity, while others might want to state that one or the other is currently on top. The one place that DC has never really been able to top Marvel in recent years however has been on the big screen, where the Stan Lee cameos have been a big part of the show for a long time and will be sorely missed.
Showing up in movies such as The Incredible Hulk, alongside Lou Ferrigno no less, was the only natural progression since the supposed father of Marvel comics has been revered and looked upon by the fans in such a manner as to be labeled a legend among mortals. Seeing him in every MCU movie that came along was nothing less than great, and even seeing him in Marvel movies that predated the MCU was even better since it showed a great deal of respect for a man that held the future of the company in his hands so long ago and didn't even realize it. Had he given up we might never have known what we were missing. Thanks to his persistence and in part thanks to his wife Joan we've been entertained by Marvel for a very long time now and have been given heroes and villains that have helped to shape pop culture and have been greatly revered the world over since Stan, despite not being a businessman, had the tenacity to stick with it and become an icon that was honored in more than one way. His cameos seem like a fun way to cement his legacy in another way since the man's name is synonymous with Marvel already. Establishing a presence within the movies that his ideas and others helped to make is only fitting it would seem since without him and those that worked with him Marvel and the MCU wouldn't be around to celebrate.
The first notable cameo was great since it made people sit up in their chairs and take notice, but after that it became something that people were apt to look for and be disappointed if they didn't see it. Plus the interactions that he was given with the main characters at times were, as Rachel Yang from Variety shows, insanely funny since he interacted with Tony Stark at least a couple of times, being called "Hef" and then being give the chance to deliver the line "Tony Stank". In many ways his cameos seemed to wrap up the movies in one of the best ways.