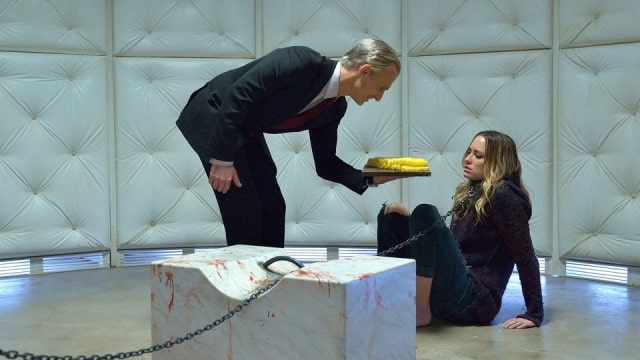 For thirty-plus minutes, "Dead End" teases audiences with the first real, significant plot movement since the Season 1 finale. With Eichorst and Dutch isolated from the rest of the crew, "Dead End" seemed destined to be heading for an epic showdown once Dutch inevitably tried to make her escape. The Strain's second season, much like its first, has suffered from its inability to foster a sense of urgency. With Dutch vs. Eichorst as its main course, it seemed destined one of The Strain's leading members would find their end in this hour, and give some serious dramatic propulsion for the last two episodes.
And then there's the final scene: one of the most tension-filled sequences in The Strain's brief history, energetically shot by Phil Abraham to evoke a sense of tension this series has lacked since its first episode. Dutch running away from Eichorst in a closed-off wing of a historical hotel is a wonderfully applied homage to classic horror films, right down to Dutch's injury that slows her down, turning Eichorst's steady, methodical walk into a sinister march towards a final confrontation. The stage is set for an epic, season-thrusting moment, and instead, both characters walk away in the same familiar fashion as every confrontation before it: the strigoi shaking off their minor injuries, while the living humans hug and cry in fear for the event they just survived.
This moment is beyond frustration. While I never want to see an actor out of work, this season desperately needed something devastating to give some weight to the story. Normally, the show goes for the heart with lame stories about Zach missing his mother, or Fet pining over Dutch. With Zach nowhere to be seen, there's a huge opportunity for The Strain to give this story some serious pathos in its main storyline. The secondary stories certainly can't carry the weight; I'm not sure which one I care less about, the idiot who Setrakian once saved selling the Lumen to Alonso Creem (yup, that's his name), or Gus sleeping with Aanya right before sending her out of the city once and for all. So the impetus is on the Dutch/Eichorst story to give at least ONE episode in this series of some significance (besides the one where Kelly got turned) – and not only does this story not deliver, but it ruins itself before it even gets to the best parts.
Yup, I'm talking about that moment, when it's revealed Eichorst has captured Dutch to act out the sexual aggression he never got to with Helga, the Jewish woman who once turned him down and he had killed before he could, I don't know, beat her and drink her blood or whatever he's supposed to do. It doesn't really matter: it's all about building to that moment where he tells Dutch to "drop her pants," "bend over," and "spread her legs" (which is preceded by a scene where he forcefully feeds her a very phallic-looking piece of pineapple), which ranks among the most disgusting, vile things I've seen any character say or do in recent memory, even in scenes where things were taken farther (though it doesn't quite hold a candle to poor Sansa's wedding scene earlier this year). Not only had the threat been established at this point – for Christ's sake, she's chained up and pantless already – but the episode has to tie it to his glee of having his former crush murdered after she shuts him down romantically and really just tarnish what becomes a wonderfully-constructed chase sequence.
It's really deplorable how that scene plays out and further colors Eichorst's flashbacks. It undermines what's been a particularly delicious villain to this point, a man without purpose who is driven by Germany's horrible economy and position in the world to join the SS, and finds his calling when he embraces the darkest impulses inside himself. While pretty conventional for any World War II-era villain, it at least paints an interesting image of a true "late bloomer." Turning him into a sexual predator fixated on Dutch clouds The Strain with an ugliness it has no interest in addressing (or given its history, even has a grasp on how to), and undercuts the building tension in Eichorst and Dutch's scenes in that padded room.
That extremely disappointing moment doesn't undermine the construction of the scene that follows, but I'd be lying if some of the tension hadn't exited the room when Eichorst began looking up Dutch's legs and unfolding his feeding tentacle – and then, when Eichorst ignores the massive dynamite blast Fet sets off, whatever remaining momentum the episode had fell to the floor. As a whole, "Dead End" ends up being an ironically fitting title for the episode: whether referring to Gus's "romance," Setrakian's inability to complete any of his missions, or the utter lack of stakes in the climatic Eichorst vs. Vamp Hunters scene, I can't think of a better name for this particularly frustrating (and largely entertaining, if only in segments) episode of The Strain.
Other thoughts/observations:
Setrakian's side bar with Rudyard is some of the most pointless material on The Strain to date. "Dangling the carrot" is fun for an episode, but not eleven straight that reduce a show's character to a grunting idiot.
UGH, Alonso's teeth are more annoying every time I see them. Also, he just took over the dead cardinal's church, because #thuglife, I guess.
The Silver Angel returns to fight on one leg! I can't wait to see that angry lady tell Gus "He just can't handle it!" and then watch him totally handle it.
"We would'a worked, you know… Just not right now." Would you have, though? Can you even spell her first name correctly?
Now the interesting question with Eichorst becomes how far they can take this character. I feel like "Dead End" might be his peak as a primary villain on this show, given it fills in his back story and further reveals him as someone who can always escape death, but never actually do anything significant.
With no Zach this week, I am fully prepared for a heavy dose of him in the final two episodes. Everyone ready?
[Photo via FX]