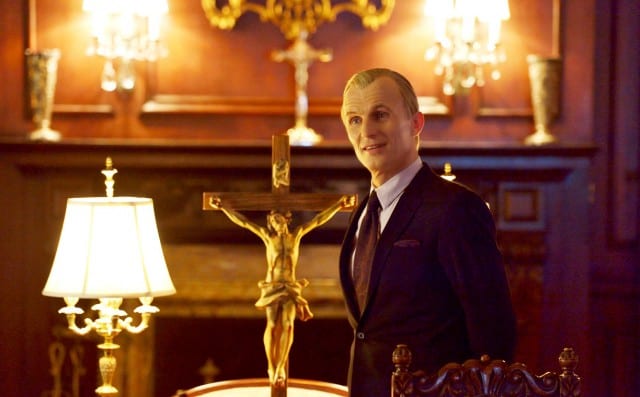 After opening the season with some energetic, campy hours, The Strain's fallen victim to the rhythms of Season 1 in its sophomore year. That is, it's gotten back to people doing nothing about nothing, while nothing happens around them, and characters talk a lot about plans that are coming. This is an episode where Eph does surgery on a guy to get a sniper rifle, and Setrakian finds out the Lumen was being held by the very person he suspected (he literally says "of course it is" when he's told the name by a dying priest). That's the entirety of "Intruders," and it takes 42 minutes to get there.
Okay, there are two other stories happening in the episode, but does anyone really care about Coco, beyond a device to prickle up Palmer whenever Eichorst comes around? Forget that her attraction to him makes absolutely no sense. She goes through this cycle of getting mad and then attracted once again to Eichorst that is thoroughly ludicrous, the only real joy coming when Palmer pokes Eichorst about the recent promotion to Ancient status he didn't achieve.
On the note of the Master's "powers," "Intruders" continues to reinforce that any logic it tries to place around those 'powers' is absolute nonsense. The Master can take any form (though the other Ancients either can't, or just like to lie around on blood-covered dollies, naked and weak), control any of his vampires, hear and see anything they say, and even throttle down his "influence" on them, which gives Kelly the power to speak and emote this week – which in turn just leads to a more prominent role for Zack in the episode, and that is absolutely the last thing The Strain needs.
With all this convolution (Fet knows arms dealers, because that's what exterminators know!) and ridiculously rote emoting happening, "Intruders" never has a chance to get out of its own way and progress. Eph's got nothing to do after failing in Washington except lie to Nora and be a terrible father to his son, neither of which are very compelling to watch. And since neither Fet nor Setrakian have any concern for their own emotions in this episode (remember when Fet was in love, and Setrakian pined over the jarred heart in his basement?), "Intruders" is a straightforward march to nowhere, an episode that feels like the dramatic equivalent of a dirty puddle placed between more important hours of The Strain, sagging down the narrative with a lot of mucked-up nonsense about bidding over an ancient book (as much as I love Setrakian's "who gives a crap how things work out" approach, it seems like it would've got him killed sometime in the last 75 years) and the infinite powers of a vampire who seems very hellbent on destroying one tiny, fractured family as part of his 'master plan' to take over the world. In short, it's another empty, vaguely racist hour of The Strain, one that feels as forgettable and interchangeable as most of the 20 episodes preceding it.
Other thoughts/observations:
– Zack likes spaghetti… to which I say who gives a crap. Seriously kid: you're the worst.
– Gus makes a laughably racist joke about himself and his ability to "cross borders." Yikes.
– Quinlan shows up to recruit Gus, revealing that he thinks both the Ancients and Vaughn's army are two groups of idiots. I kind of like this guy.
– The Asian arms dealer has surgical kits because they're "popular with like, gang members and people who can't go to the hospital." Are you kidding me, The Strain? Really?
– My eyes roll when most shows get Biblical. When The Strain evokes the name of God, I cannot help but giggle.
[Photo credit:Â Michael Gibson/FX]