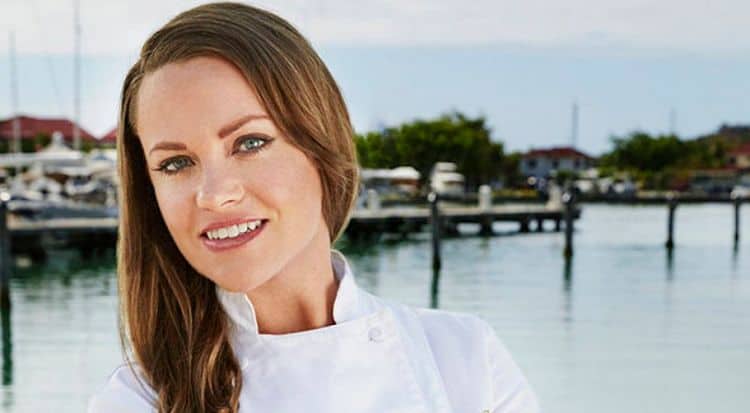 Getting the chance to be on a reality show can be the opportunity of a lifetime. On the flip side, however, that isn't always a good thing. While there are some people who thoroughly enjoy sharing their every move in front of the camera, there are others who eventually find out that the reality TV life isn't for them. Below Deck star, Rachel Hargrove, found herself becoming a part of the second group. After joining the cast of Below Deck for the show's eight season, it didn't take long for it to become clear that Rachel may not make it in reality TV. Before the ship even left the dock, Rachel found herself walking to call it quits. Although her decision ended up being temporary, lots of people want to know what was going through her head. Keep reading to find out how Rachel Hargrove quit Below Deck.
Who Is Rachel?
If you're not a huge Below Deck fan, or if you tuned into the season a little late, you may not know much about Rachel. No need to worry though, we've got you with a quick run down. Rachel is originally from Tampa, FL. Her cooking skills are top notch and she received her culinary education from Culinary Institute of America. She is a master at a wide variety of cuisines and her skills definitely came in handy aboard the My Seanna.
Why Did Rachel Quit?
Have you ever gotten so fed up at work that you wanted to get up and walk out on the spot? Rachel's decision to leave My Seanna was the literal embodiment of that moment.
Being a chef even under typical circumstances can be a very stressful job. People are very serious when it comes to their food, which means they can also get pretty demanding. What Rachel quickly realized however, is that the yacht guests on My Seanna can be even more demanding than she could have imagined. Before the charter began, the crew received a document that essentially had a list of requests from the yacht guest(s). Known as a 'demand sheet' the paper had a lot of meal specific requests that Rachel felt were a little ridiculous. Actually, the word 'little' is putting it a little too lightly. To be frank, Rachel was pissed and flat out refused. She couldn't believe the demands that were being made and she decided she simply didn't want to do it.
In fact, she said the only way she would work for clients who were that needy would be is if they were hiring her as a private chef and paying her upwards of $15,000. While her sudden decision to leave definitely left Captain Lee and the rest of the crew in a bind, it also made for great TV.
When talking about the incident Rachel told Entertainment Tonight Online, "I didn't really want to leave Captain Lee hanging. I just needed a breather and needed to walk off and take a second. Especially for everything that was happening to process it. That was one of the craziest sheets I've seen in my life. And then, I'm running as a sole chef? But it really was, I didn't want to disappoint him."
Does Rachel Regret Her Decision?
Walking away from a reality TV show is a big decision and it's one that most people don't take lightly. In the heat of the moment though, Rachel just didn't feel like dealing with the pressure and stress. Despite all the things she would have given up by permanently leaving the show, Rachel knew she wanted to maintain the most important thing: her peace of mind. At the end of the day, she has no regrets about her decision.
During her conversation with Entertainment Tonight Online she said there were several factors at play when she decided to walk away. She noted that constantly being filmed is very stressful and seeing the demand sheet didn't make things any easier.
She ultimately decided to return, but the rest of the crew wasn't very happy with her. After all, no one likes to feel like they've been left hanging by someone they're supposed to be able to depend on. Rachel, however, isn't too worried about what other people think of her. She is unapologetic about being herself and that isn't going to change. On top of that, fans really seem to love her. Unfortunately, however, Below Deck typically has a new cast every season, so there's a good chance this could be the last we see of Rachel.