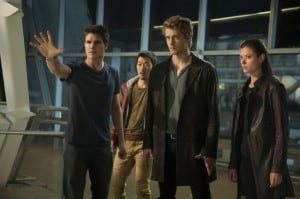 If The Tomorrow People sounds familiar, it's because it was originally a British show that aired in the 1970s. But now Vampire Diaries producer Julie Plec and Arrow producer Greg Berlanti have come together for a U.S. re-imagining of the show.
The Tomorrow People are described as "the next evolutionary leap of mankind, a generation of humans born with paranormal abilities." Stephen Jameson was a normal teenager a year ago, but then he started teleporting in his sleep and hearing voices. While he believes he's gone crazy, he decides to listen to one voice in his head and it will lead him to the other Tomorrow People - John, Cara and Russell – who possess powers of telekinesis, teleportation and telepathic communication.
But these people are being hunted down by a group of paramilitary scientists known as Ultra, led by Dr. Jedikiah Price. To escape this group, the Tomorrow People hide out in an abandoned subway station. Dr. Price offers Stephen a chance at a normal life if he'll help destroy the Tomorrow People, but his new friends offer him a place where he truly belongs. How will Stephen choose between them?
The series stars Robbie Amell ("Revenge") as Stephen, Luke Mitchell ("H20: Just Add Water") as John, Peyton List ("Mad Men") as Cara, Aaron Yoo ("Disturbia," "Nick and Norah's Infinite Playlist") as Russell, Mark Pellegrino ("Lost," "Supernatural") as Dr. Jedikiah Price, and Madeleine Mantock (upcoming "All You Need is Kill") as Astrid.
The Tomorrow People will air on Wednesday nights at 9:00 p.m. ET/PT. For The CW's full 2013-2014 schedule, click here.
[youtube=http://youtu.be/8TDKDqoklEI&w=540&h=385]
[youtube=http://youtu.be/SsjejXi5mGg&w=540&h=385]