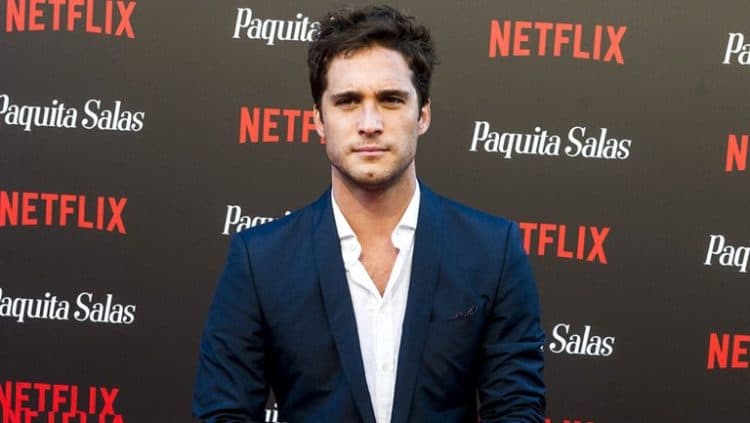 For decades we've been thrilled with some of the most daring and handsome characters portrayed by actors of Hispanic heritage. There is just something incredibly intriguing about the Latin culture that puts one in mind of sexy dancing, machismo, and incredible romance. Some of the most beloved actors including Raul Julia, Antonio Banderas, Hector Elizondo, Jimmy Smits, Andy Garcia, and others have kept us entertained, but these actors are joining the elder generation and we're in need of a younger group of guys to step in and fill their big shoes. We've identified some of the younger actors that we believe have the potential to soar to superstar status, but it's early in their careers and only time will tell. Here are five up and coming Hispanic actors to keep your eye on.
1. Diego Boneta
Diego Boneta is a Mexican-America actor and singer who began his career in acting as Rocco, in "Rebelde," a Mexican soap opera. He then landed the part of Javier on teh popular "90120" on CW. He also appeared in ABC's "Pretty Little Liars" as Alex Santago, then as Pete Martinez in the television "Scream Queens" and as Drew Boley in "Rock of Ages." His parents are Lauro Gonzales, born in Mexico and his Mother, Astrid Boneta, a US citizen. Diego was born in Mexico and is bilingual with fluency in English and Spanish. He's also a talented musician who released his first album in 2005, titled "Diego. The album was released in Chile, Brazil and in Mexico. He's gone on to release several more successful albums. He has a wealth of talent, good looks, and charm, and we expect him to go far in his career. He has the whole package and if Diego continues forward on his current trajectory, we believe that he has the ability to move up to a decent status and take his place in the upcoming generation of celebrities in the acting business.
2. Michael Bourgie
Michael Bourgie is another up and coming actor of Hispanic heritage. He landed a role as a co-star in the pilot of a drama titled "Gang Related" in 2014. He's also known for roles in "Grooming" the same year and prior to that, "Switched at Birth" in 2011. Michael has an Instagram account and you can join his growing fan base and follow him there, or just check in to see the new pics that he posts. There are a ton of great shots on the site. Although he's only made 21 posts so far he has 680 followers and he's following 431. This handsome young man is definitely one to keep your eye on as we see a great deal of promise in him as an actor.
3. Lorenzo James Henrie
Lorenzo is a native of Phoenix, Arizona, born in 1993. He's best known for his role in "Fear the Walking Dead" in 2015, along with his part in "Paul Blart: Mall Cop 2" the same year. Prior to that, he appeared in "Agents of SHIELD" in 2013. He's a young Hispanic actor who has shown great promise, and he's also a producer in the entertainment industry. Henrie is married to his wife Kyara Pintos and the couple has one child together. Lorenzo has proven that he can play a variety of different roles and we need more versatile actors in the business. We think that he's going to keep moving up with his popularity because he has a high potential for greater things.
4. Diego Tinoco
Diego is best known for his role in the Netflix series "On My Block," as Cesar. The character experiences internal struggles with peer pressure to become a member of a gang. It's difficult for him to continue resisting because there are members of his own family who are involved. You also might remember Diego from his role in the MTV show "Teen Wolf." He's another up and coming young actor who bears watching. He shows tremendous potential for his realistic capture of characters. He brings them to life and makes them believable.
5. Moises Arias
Moises is a young actor of Colombian descent who was born in New York City. He is best remembered for his role as Rico in the popular family television series "Hannah Montana," starring Billy Ray and Miley Cyrus. Rico was a wily kid who had a big-time crush on Hannah and he had some entertaining ways of getting her attention. Rico was a bit unscrupulous but we couldn't help but admire his spirit. After the series ended, he continued forward with his acting career and he went on to star in "Ender's Game," "The Kings of Summer," and he provided the voice of Antonio in the kids' show "Despicable Me 2." He's also working on a romantic drama that is titled "Five Feet Apart," and will co-star with Cole Sprouse. Moses captured our hearts when he played the role of Rico because he was just so darned cute and adorable, but he's grown now, and he's a handsome young man and a talented actor as well. Arias has a brother named Mateo Arias who is known for his role in "Kickin' It. It appears acting talent runs in the family. Prior to becoming a serious actor, Moises attended the Barbizon Modeling and Acting School, located in Atlanta Georgia. He prepared himself for his career and this shows how serious he is about it. We haven't seen the last of him as he just released his latest work in 2019. We're all but certain you're going to be seeing a lot more of Moises, and although he's not the type of guy to become a sex symbol, he can certainly depend upon his talent to take him a long way in the industry.