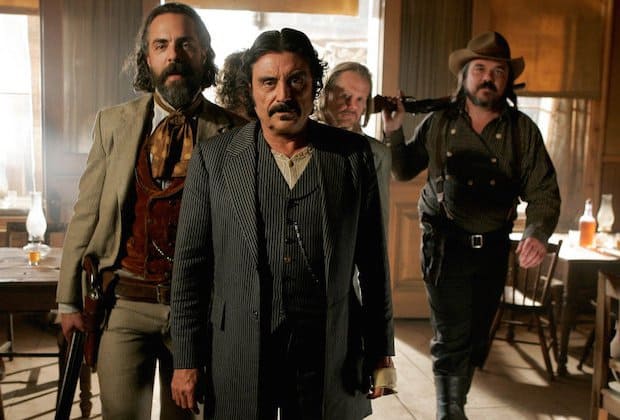 There was once a time when I said goodbye to HBO and more importantly HBO GO as I moved to a new place where I didn't want a $160 cable bill, but before I did that, I wanted to take one last look back at some of my favorite series from the channel.
HBO has had so many good shows over the years, I had to restrict this list to dramas alone. No Larry David, Kenny Powers or Bret and Jemaine. Rather, these are the shows and characters that have become legends over the years from Tony Soprano to Al Swearengen to Omar Little. Check out the full list below
10. Carnivale
Carnivale was a rather bizarre show, which is why it might not of caught on and lasted more than a pair of seasons. But it did have a fanbase, and if you can manage to get into it, it's actually quite good. It was one of HBO's bolder concepts, I credit them for trying and I do think it deserves to make the top ten here. It's overshadowed by their other classics, but remains quite good in its own right.
9. True Blood
Say what you will about True Blood in its later seasons, but there was a time where it was a very addicting, strangely compelling show. A world where everyone knew vampires existed was an interesting one, and when they were the only creatures out there, things were a lot better. Unfortunately as time went on, the show felt like it needed to keep topping itself, and more and more monsters were added until it started being ridiculous. Werepanthers? Really? But give seasons 1-3 a watch and you just might enjoy it.
8. Boardwalk Empire
I don't think it was HBO's best dramatic effort, but it wasn't a bad show either. Set during prohibition, the series focuses on illegal bootlegging and crime during the era. Steve Buscemi is great, though I'll admit I'm not the biggest Michael Pitt man. It was clearly Scorsese going for a Leonardo DiCaprio-type on a budget. I'm not fully caught up with season two yet on DVD, but it was not a bad show to watch while you were waiting for Game of Thrones to come back.
7. Oz
Watching all six seasons of Oz in the span of two months was probably the single most exhausting media feat I've ever accomplished. The show is a relentless assault of depressing and horrifying violence, and is 100% set in the same prison for the duration. After six seasons, you want to escape as well. That said, it is a powerful show and extremely well written. It's far harder than Prison Break or movies like The Shawshank Redemption. It's prison at its most visceral, and that's the way it should be.
6. Rome
Before Game of Thrones, Rome was HBO's most ambitious project. It's what ultimately led to its downfall as even if the show was good, it was just too damn expensive and the massive fanbase it needed wasn't there. The most interesting part about it was that it was set in real time, where season two tried to be historically accurate by jumping ahead of number of years, and even recasting one of the lead roles as the character grew up. It really was a great show, and it's too bad it ended as early as it did due to budget constraints.