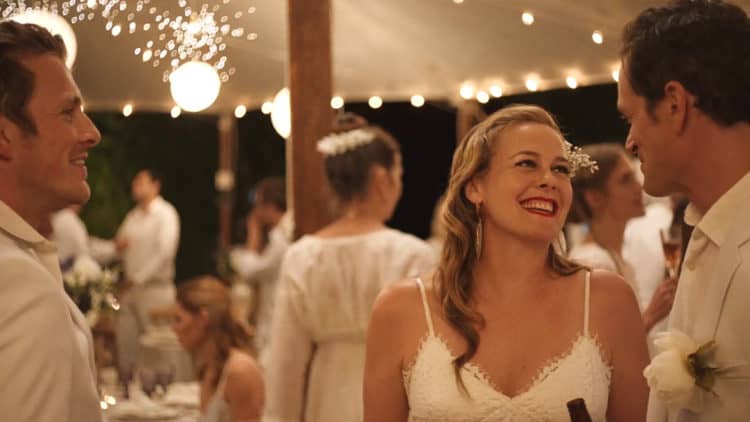 Is there anything worse than not getting along with your in-laws? A lot of people can relate to a situation like this since meeting new people for the first time, especially those that are going to be a big part of your life since your sibling is marrying into their family, can be a little daunting, but it becomes even worse when it's established that for one reason or another that they don't like you. Alicia Silverstone is taking center screen again in a comedy that's already looking to be a bit more dramatic than what fans might be used to seeing her in since she was the most popular girl in the classic movie Clueless, and even in The Crush she was the one girl that no one could take their eyes off of. But age has definitely done a bit of a number on her in a few ways since she's still an attractive woman, but the knockout she used to be is a little harder to see. Or perhaps that just the way she's being set up in this movie since it does feel as though her presence is a little muted compared to what fans are used to seeing. Time does a lot of things obviously, and while her reputation is still solid it does feel as though maturity has stripped her, at least a little bit, of that youthful exuberance.
The movie does look like it's going to be hilarious since the constant battle to win the approval of one's in-laws usually makes for great comedy since people can relate to it in a big way. Some of us luck out and marry into families that aren't perfect but are easier to deal with since our in-laws are nice and decent people that don't judge us in any negative way, but others aren't quite so lucky since from the first meeting it's apparent that something just isn't good enough, no matter what it is. That's the struggle in this movie since Silverstone's character is right away being judged by the family that her brother will be marrying into and it's already established in the opening shots that she's struggling to accept that her brother is getting married at all. The fact that the family he's marrying into is a bit different isn't lost on the audience since their need to question her in a few noticeable ways is hard to miss. One thing about in-laws is that some will be polite and beat around the bush all day while trying to make things work, while others will come out and say what they think without sparing any sensibilities.
Silverstone has actually been keeping pretty busy for a while since she's been active in TV and movies and has even lent her voice to a few different roles. Some folks might think that they haven't seen her for a while, but that could be due to the fact that her star rose quickly and faded off for a while even while she remained on the scene. Back in the 90s she was one of the hottest young actors out there and made it known with a few signature roles, but by the time she starred in Batman and Robin as Batgirl, it was kind of apparent that her popularity was waning a bit. No pun intended, I swear. But as the years have continued to roll on she's stayed on the scene and continued to expand her repertoire as an actress while taking on various other projects that a lot of people have probably seen while keeping herself busy with other activities as well. To see her pop up in a comedy such as this isn't too surprising since comedy and drama have been two of her biggest strengths over the length of her career and she's proven that she's quite good at them. Taking on a dramatic comedy in which she has to deal with watching her brother marry into a family that loves him but is bound and determined to judge her is bound to make a lot of people nod their heads and think 'been there, done that'.
Whether this will put her back on the map as some people might think isn't much of a big deal since she's been doing her own thing for years and while the movie could very well remind people that she's still there, it could also just be a funny movie that will entertain a lot of folks in a manner that reminds them what it's like to be the outsider in your own sibling's wedding for one reason or another. That's kind of an awkward statement since one would hope that siblings would be one of the first people in your life to be at your side when getting married, but a lot of us know that's just not the case.