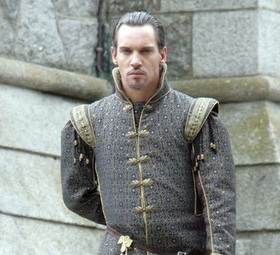 Since its premiere three years ago, The Tudors has been one of my favourite shows. Gorgeous costumes, fantastic actors, intriguing storylines – this show has it all.
Admittedly, season 3 dragged a bit when it focused too heavily on the religious uprisings in England after its break from the Catholic Church in Rome. The Tudors is always at its absolute best when it is focusing on Henry VIII and his relationship with his wives. That is what made seasons 1 and 2 so interesting (and, I believe, a fantastic performance by Natalie Dormer as doomed second wife Anne Bolyen).
When we last left Henry at the end of season 3, his third wife, Jane Seymour had died. Distraught over the death of his favourite wife (and the only wife who ever bore him a son), it took his ministers a while to convince Henry to take a new bride. Enter Anne of Cleves (played by singer Joss Stone). History tells us that Henry wasn't too pleased with Anne's looks (Joss was rather plain looking, but certainly not ugly) and quickly rid himself of his fourth wife. Fortunately, for her, she didn't go the way of his other wife Anne (who died by beheading), and was simply sent off to live in the country with an annual pension.
Enter Catherine Howard, a 17 year old girl who was manipulated by men in Henry's court to become his new wife. We open season 4 with Catherine and Henry. Anyone who can read Wikipedia knows how the relationship will end, and the trailer below is incredibly detailed with its chronology of the relationship. That doesn't really matter though, because the fourth and final season of this show looks fantastic – a return to the great characters and storylines that made the show great.
You can also view a behind the scenes look of season 4 below, with interviews from various cast members.
The Tudors fourth and final season premieres on April 11, 2010.
Email: clarissa @ tvovermind.com
Follow: twitter.com/clarissa373