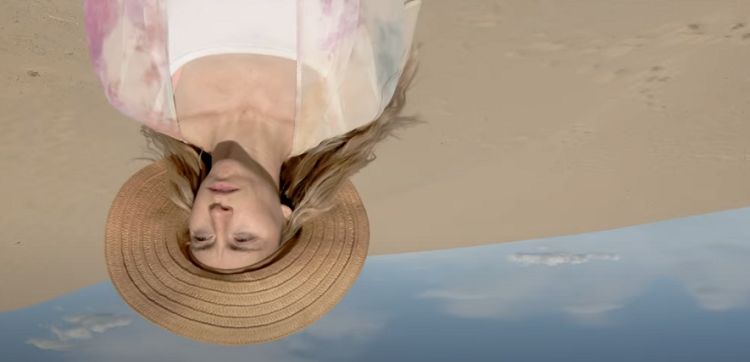 This probably isn't the Upside Down that people were thinking of initially in regards to Stranger Things. For one thing, it's a lot brighter and even cheerier in a way despite being shot in a desert scene, and the characters aren't exactly the dour, depressed individuals that we've seen on the Netflix show so far. But the action short does kick off with an interesting premise since the man crawling along the sand at one point is obviously in distress and could probably use some help. Instead, he gets kicked THROUGH the sand into the Upside Down world that was placed into evidence by the fact that the woman who appears first is upside down, which is a pretty easy trick no doubt but is used to give a different perspective on things. Once the guy pops through the sand into the other world though she starts beating the hell out of him as he tries to get his bearings and fails initially. If that's not strange enough, once she throws him down to the sand he pops back up where he just came from.
What follows is something that might confuse some folks but is actually kind of fun and even entertaining since the guy that's being attacked is bounced from one spot to another as the Upside Down becomes the norm and then the other side becomes the norm as he has to fend off the first individual that was attacking him and then the woman as they keep making it hard for the guy to gain his bearings. Once he does though he manages to use the advantage of sinking through the sand from one world to the other in a great way as he beats on one of his opponents before diving through the sand to beat on the other, using it as a kind of odd trampoline effect that shoots him out either side to keep outfoxing his abusers. By the time the short ends he's managed to get the upper hand on his attackers and it's easy to assume that he starts bouncing them through the sand barrier. It's a fun short film and it definitely shows a great deal of imagination.
Short films are a lot of fun to watch sometimes since they bring up ideas that we don't always think about and even bring up ideas that might be common to a lot of people, but in different ways that a lot of folks might have considered right away. This action short is pretty simple and to the point and yet it might take a few people several seconds to see what's really going on, and even then a lot of people are bound to ask what and why this is happening. That's one thing about short films, there's not a lot of room for exposition since things have to be filmed quickly and with as little explanation as possible depending on the length. Some short films do manage to fit in just enough exposition to make sense of the action and the overall story, but this one isn't one of those since it's the type that people have to simply accept and run with in order to really enjoy it.
Sometimes things don't need the full explanation that people want in order to enjoy them, such moments only need people that are going to watch and be impressed or at least appreciative. That could be why it's a bit frustrating at times to read so many articles online that are concerned with the most technical details of a movie, a show, a piece of art, anything that people enjoy. Granted, everyone gets to enjoy their favorite things any way they'd like, but explaining something to death tends to become tiresome and tedious since some folks feel the need to figure out every little piece of information that's presented to them, be it fictional or not. When creating something a lot of folks want to know that there's a point to it, and I'll admit, I'm guilty of this as well since some stories do happen to need a point to come together in a meaningful way.
But if anyone is needing an explanation of this short film they can take away that the guy on his knees was trying to get away and the guy that kicked him through the sand either knew about the Upside Down or was simply trying to get rid of him. The woman on the other side might have been of the same mind, that she could bounce her opponent back to the other guy and let him do some of the legwork, or she was trying to finish him off herself. The 'why' of it isn't told and doesn't need to be since it's pure action and that's all a person needs to worry about. At least, that's how some people feel.