At the heart of The Vampire Diaries family is what is important and this episode showcases this central theme. The connections between family has been the driving force of Stefan's (Paul Wesley) vendetta against Klaus (Joseph Morgan) through using Klaus' family coffin collection as leverage; but after he succeeded in getting Klaus to remove his hybrids from Mystic Falls what will be his next move? As this is The Vampire Diaries we don't have to wait long for either vampire to take action, but it is Bonnie (Kat Graham) who could prove to be the most valuable player in this good old fashioned stalemate.
Stefan asked for Bonnie's help thanks to her ability to harness her power to hide the coffins and also to help open the mysterious fourth coffin that is sealed with a spell (and not a kiss). Bonnie is a character that gets to shine when she is dealing with elements beyond just her supernatural abilities, and prior to this episode a lot of her emotionally resonating scenes have been with her grandmother Sheila Bennett (Jasmine Guy). Bonnie once again had a recurring super creepy dream that ended with Klaus locking her in a coffin and it was a familiar face that saved her. This familiar face turned out to be her mother Abby (Persia White) who abandoned her 15 years previously and continues this shows theme of absent parents. There is of course a semi-reasonable and supernatural explanation for this act and perhaps unsurprisingly vampires and Elena (Nina Dobrev) are involved. A certain Daddy Original turned up to Mystic Falls looking for the doppelganger and Abby used all of her witch power to get him away and is the reason why Mikael (Sebastian Roché) was in that tomb where Katherine found him (and probably why Emily Bennett knew of the location).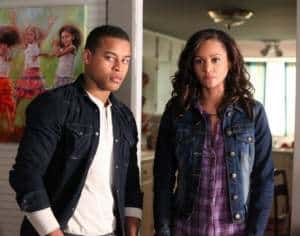 This act drained Abby of her power and instead of returning home she chose the undeniably selfish route of staying away to live a normal life. Like all things magic related there were consequences to her actions and Abby believes that her powers ebbed away because she didn't return home to her daughter. This would be a lot of information to take in for anyone that hasn't seen their mother for 15 years, so it doesn't help that one of Klaus' hybrids got to Abby first and used her surrogate son Jamie (Robert Ri'chard) to get the location of the coffins. This bond that Abby has with her son that isn't blood related is obviously going to cause friction between mother and daughter, but Abby wants to try and get her powers back if it means that she can help out Bonnie. I have a feeling she probably will be able to help in the end but that she will inevitably pay for it and will join the witch spirits on the other side.
The conflict between Elena and Bonnie over Elena's actions with Jeremy (Steven R. McQueen) has subsided this week and the road trip and intense family reunion helped. Bonnie is also the first person to hear about the Damon (Ian Somerhalder) kiss and doesn't disapprove in the way I thought she might, instead she wants to know all the details which Elena is unwilling to share.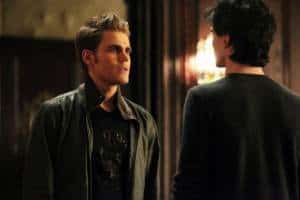 The matter of this kiss gets raised later as Elena decides the best time to tell Stefan about this is as she has her hands in his chest cavity, removing wooden buckshot. Stefan doesn't appear to react to this news but his lack of reaction shows his displeasure and whilst it is good to see that he still cares, it is also hard to feel sympathy thanks to his recent bonkers actions (which he does apologise for). The way Stefan shows that he cares is by going all alpha male on Damon with a punch that even Damon doesn't argue with. Stefan is a complicated being this year and Paul Wesley is really nailing this conflict with each episode, showing an impressive range. Do you think that Stefan has any right to be angry about this kiss?
Another relationship that has been effectively ruined by Klaus is between Caroline (Candice Accola) and Tyler (Michael Trevino). Tyler does the opposite of what most 'boyfriends who hurt their girlfriends' would do and calls Caroline's father Bill (Jack Coleman). Bill has developed the special skill of repelling compulsion and Tyler wants to be able to do the same with the sire bond, easy right? Not so much and Tyler has to train himself to turn at will without any pain. I'm glad they have found a way to use Bill that doesn't involve him 'curing' his daughter and that he is using his knowledge to help instead. This did almost get Bill killed and it is only because Meredith (Torrey DeVitto) is using vampire blood as medicine that he survived. This practice of using vampire blood is surely going to put Meredith in danger and where has she been getting her supply from (other than Damon)? Is this the real reason why Brian (David Colin Smith) was murdered?
The big final moment came courtesy of Damon removing something important from one of the coffins and we get the most welcome return of the wonderful Elijah (Daniel Gillies). His first action involves ripping out a hybrid heart which seems to be a work related problem of being one of Klaus' hybrids and I'm sure he's going to be less than happy with his brother after his daggering. We have seen that Elijah was unable to kill his brother before, after all the ties between brothers are pretty tight but I can imagine that he will be up for some pain inducing revenge.
Other Observations:
-Damon is concerned for Alaric (Matt Davis) when it comes to the women he dates and is wary of Meredith. He thinks she might have something to do with her ex-boyfriends murder and repeatedly calls her a psychopath. Like any good friend he checks Alaric's pans for boiling bunnies and luckily there are none. Do you trust Meredith?
-Elena is ok with Alaric moving on, even if he feels weird doing it whilst living in his dead girlfriend's house and this sweet scene showed that family can extend beyond blood relatives.
-Wooden buckshot would seem like the best way to keep a vampire down for a long time as Stefan is incapacitated by this for quite awhile.
-The house of 100 dead witches can inflict pain on Klaus but they stop when he threatens to destroy the Bennett line as he is likely to follow through.
-Where is Bonnie's dad?
Elijah's return was wonderfully surprising and just plain wonderful and I'm very excited as to how this will develop the story; will we be seeing brothers against brothers once again? Unfortunately we will have to wait a couple of weeks to find out, as the next new episode will be February 2 but you can see the promo for that here.