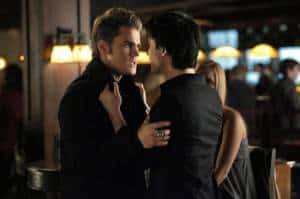 The Vampire Diaries sure knows how to return with a bang as this episode proved with flashbacks to 1912 and revealing who the recent killer is. Flashback episodes are always fun as we get to find out what led these characters to where they are now and this one was no exception as it focused on the relationship between Damon (Ian Somerhalder) and Stefan (Paul Wesley). These reviews have previously waxed lyrical about family being the heart of this show and the Damon and Stefan dynamic being one of the most compelling and this episode had all of these brilliant elements.
The motives for wanting to look to the past was all thanks to Alaric's (Matt Davis) incarceration after he allegedly tried to attack Meredith (Torrey DeVitto) and so Damon is down a drinking partner and best friend. If they look to the past they can find a possible link to the recent murders and those that occurred with council members back in 1912. This year is a significant time for Damon and Stefan as it is the first time that the two had seen each other in 50 years and as ever with these brothers their relationship was fractious.There is a constant push and pull between the pair that is caused by feelings of guilt from both parties; Stefan feels guilty for making Damon turn and as we find out in this episode Damon believes he is responsible for setting Stefan on his Ripper stardom path. Neither is really their fault though as blood lust and desire for companionship led to their actions.
What this episode marks is a turning point between Stefan and Damon and what worked so well is that Elena (Nina Dobrev) was barely mentioned with regards to their motivations, yes Damon probably does feel guilty that he kissed Elena but he definitely feels worse about letting his brother walk off into the night blood hungry back in 1912. The only interaction between the three couldn't have come at a worse time as Damon's experiment to get Stefan to "pay your old friend moderation a visit" was in full flow and no one wants to see their ex-boyfriend with a face full of blood. The look of horror on Elena's face was understandable and this show really doesn't make the act of drinking blood sexy, especially when Stefan does it in such a feral manner.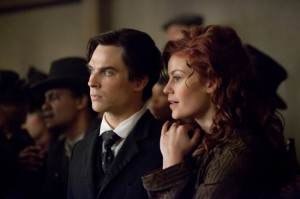 This episode is a turning point for Damon both in the past and present and we are introduced to Sage (Cassidy Freeman) who is the vampire that taught Damon to enjoy being a vampire. In this respect Sage appears to be very much like Lexi (Arielle Kebbel) in that she gives one of the Salvatore men a lesson in how to be a better vampire ('How to be a Better Vampire' coming to book stores soon). In the present Damon is reverting to super snark with Elena, but he has become softer with his brother and really wants him to be able to manage his reaction to blood. We saw last season that Stefan could drink human blood and control his urge, which was of course until Klaus (Joseph Morgan) came along and set the ripper free.
Stefan is not the only one who has an uncontrollable aspect to his personality as it is revealed that Alaric could actually be the one behind the recent murders and even though he was attacked himself this could still be the case. Random bragging moment; after Alaric was attacked I gave the crazy murder prediction that it was Alaric here but at that time couldn't think of a motive. Now we know that the ring that Alaric wears could be the cause of these crimes and it's not all that surprising that a ring that can bring you back from the dead has some bad side effects. A previous wearer of the ring, Samantha Gilbert (Lindsey Garrett) admitted to the 1912 killings, a decade after Damon believed he had killed her and now it would seem that the ring is doing similar things to Alaric and he is blacking out the events. Do you think this is the case? Go vote in our poll here to let us know what you think about this reveal.
Also on the murder case are Elena and Matt (Zach Roerig) and even thought the fruits of their labor may prove to be not all that helpful, as Alaric is once again suspect number one, we got some really good scenes with this pair. We came to Elena and Matt after they were broken up at the start of season 1 and while there could be some residual feelings from Matt, this friendship really does look like it is just about being friends. Elena finally explains why she has it bad for these brothers; Stefan made her feel safe after everything that happened with her parents and Damon has got under her skin. These are two very different reasons and shows why the whole situation is so complicated.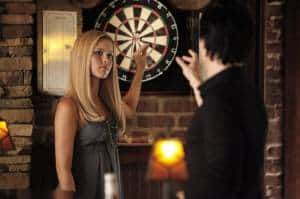 Other Observations
-No Caroline (Candice Accola) or Bonnie (Kat Graham) this week, but Matt does inform Elena that Bonnie's mother Abby (Persia White) is going to complete the transition and become a vampire and will receive guidance from Caroline.
-In a season that has been focused on the Originals it was a time away from the first family, even if Rebekah (Claire Holt) got to come and play in finding out more about Stefan, Damon and the town of Mystic Falls. Her motives are purely selfish as she wants to find out about the white oak tree that could exist and the Salvatore family owned all the logging mills, but she did provide some fun commentary including a dramatic reading from Stefan's diary.
-Rebekah knows Sage and calls her a "trashy little thing" as Sage had a thing for her brother Finn (Casper Zafer) 900 years ago. So this shows us that Sage is super old and that Rebekah is not such fan; I look forward to future interactions.
-The flashback device works so well on The Vampire Diaries because it is used sparingly. It is also always nice to see Ian Somerhalder and Paul Wesley rocking different hair and clothing styles.
This is a really strong return from The Vampire Diaries after a so-so mid-season finale that leads us into the last part of this season. Taking a break from the love triangle is a good move as it reinforces the other relationships on the show. It is a big but necessary step that Damon wants to help Stefan with his blood problem; do you think that Stefan will be able to control his blood lust with Damon by his side?
What did you think of "1912"? Happy to see Damon and Stefan spending time together? Enjoy the flashbacks? Let us know your thoughts in the comments and head here for our Alaric poll.
Next week: Sage returns and Abby is struggling with her new vampire self. For promo photos and video head here and here.