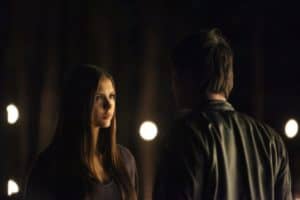 As we enter the second half of season 4 of The Vampire Diaries it is really stepping up a gear (not that the pacing on this show is ever slow) and this is evident in "Catch Me if You Can." All the pieces are coming together, with equal measures of plans falling apart and new alliances gaining ground.
Season 4 has focused on Elena's (Nina Dobrev) transition from human to vampire and the love triangle has been a huge part of this. While it is clear that the sire bond is still in effect (thanks for emphasising this notion), the love triangle is no longer the central focus of the main story. This has shifted to the 'race for the cure' (once again can we please have a Cannonball Run homage?!) and there are many different agendas at play; this factor is creating tension and putting the excitement back into The Vampire Diaries. Tension also comes from knowing which characters are more than happy to stab their partner in the back; Stefan (Paul Wesley) has literally done this to Rebekah (Claire Holt) and so her resistance to revealing where she has hidden the headstone is justified.
It's the Stefan/Rebekah pairing that injects the fun into this tense episode, where other characters are trying to kill each other or control their powers, this pair is trying to go from having nothing to something all with a carefree attitude. Of course knowing who Rebekah and Stefan are means we know that they both care a great deal about a whole lot. However, in this moment they are both able to forget these worries and it is why having them hook up makes so much sense, particularly after their time together in the twenties. They have great chemistry and this is probably the thing that both Stefan and Rebekah need to get over rejection and heartbreak.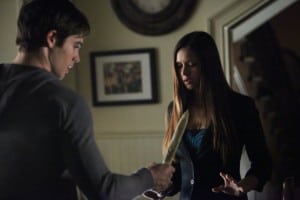 The tension between Elena and Stefan is still very much there and he offers up some very painful comments, particularly when Elena asks why Stefan is hanging out with Rebekah "And this will be the second time Damon tried to kill Jeremy. Nobody's perfect, right?" That is a burn from Stefan, but even though Damon (Ian Somerhalder) is very different to when he snapped Jeremy's (Steven R. McQueen) neck at the start of season 2, it still shouldn't be forgotten.
Elena tries to use love as a method to break Damon's compulsion and this doesn't work and I'm glad they didn't go for the easy fix with this storyline. Kol (Nathaniel Buzolic) has done the dastardly act of compelling Damon to kill Jeremy because if he did manage to do it, it would break Elena's heart and Damon would endure the Hunter's Curse. This all sets in motion the new plan of having Jeremy kill Kol instead, which would break Damon's compulsion and kill all of Kol's bloodline and thus complete the Hunter's Mark. It's not so easy to kill an Original so it will be interesting to see how this plan plays out. With an Originals spinoff in the works will they actually follow through with this plan?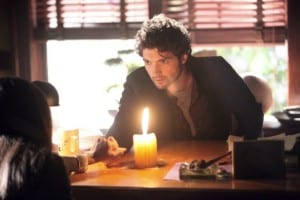 Another aspect of this episode that worked really well and should propel the season forward is Shane (David Alpay) demonstrating his manipulation techniques. Bonnie's (Kat Graham) father Mayor Hopkins (Rick Worthy) tells Bonnie that Shane preys on the weak minded and Hopkins then plays right into Shane's hands as the concerned father. In fact both Bonnie and her dad have been played like a fiddle as Bonnie is now incredibly powerful, but has issues with harnessing that power. What Shane doesn't know is that he no longer has Silas' headstone (or his supply of weed), how will he react when he discovers that it is missing? The other mystery is who sent the man to get the headstone and had been compelled to kill himself (and bite off his own tongue, ick)?
Other thoughts:
-Without vervain, Stefan has to resort to bleeding Damon out to weaken him. This might be necessary but it also sounds like a cruel and unusual punishment.
-Matt (Zach Roerig) is justified in his anger and resentment towards Damon, who wouldn't be mad after a not so fun run through a forest?
-Shane claims that when Silas returns he will resurrect those people that have been used in rituals such as Pastor Young. Is he crazy?
-No one seems all that bothered by Kol's warnings about Silas, this could be something that they regret Kol's scary stories turn out to be true.
-The Originals show just what a dysfunctional family they are with threats to dagger and stake each other.
-Jeremy's attempts to fight back are pretty futile and shows that he is currently a pawn in all of this.
-A very bloody episode with both Matt and Jeremy on the receiving end of a vampire bite, tongues bitten off, necks stabbed and the classic ripping a heart out move from Damon.
A strong outing from The Vampire Diaries as the pieces continue to move in this hunt for the cure. This is one scavenger hunt that could end very badly for some, but with the ever changing dynamics it's one that is unpredictable. It's this unpredictability that is one of The Vampire Diaries' strengths and something that has been lacking this year, this episode gives me hope that the rest of the season will continue in this manner.
Watch a promo for next week's episode "A View to Kill" here.