The Vampire Diaries has produced fast paced plotting and multiple twists in one episode, season 4 has been somewhat lacking in this department but "Down the Rabbit Hole" produces tension and shocking moments. After last week's disappointing and scattered affair with this trip away from Mystic Falls, this episode needed to step up a gear and it did just that. I'm not even sure how to continue this review after THAT ending.
So let's start with Jeremy (Steven R. McQueen) and whether this is really it for the youngest Gilbert. Jeremy has been killed multiple times and thanks to his ring or Bonnie's (Kat Graham) magic he hasn't stayed permanently dead. This feels different and while it could just be the power of the cliffhanger, Jeremy looked pretty dead this time. Of course this is The Vampire Diaries so getting killed doesn't always mean remaining dead, so I will wait until the next episode or until it is confirmed before stating that he is definitely a goner. This is still an incredibly shocking moment and my jaw was definitely on the floor when it happened.
Jeremy has really grown as a character from the moody stoner in season 1 and he has taken on extra responsibility this season with his Hunter status. Jeremy is the one person who tethers Elena (Nina Dobrev) to her human side and so his death will be a devastating blow. In recent episodes there has also been a renewed connection between Jeremy and Bonnie and their scenes this week were particularly sweet as Jeremy protected Bonnie from the illusion of her Grams. Bonnie is also in a pretty bad way as she has been stabbed by Vaughn (Charlie Bewley) and this left her unable to save Jeremy from Katherine, or Silas.
Oh yes Katherine is back! A moment that made me cheer, this was until she led Jeremy to his death. They have been wise to not overuse this character, but it is the right time to bring her back to add extra conflict to this season. Katherine now has the cure and while her motives remain unclear you can guarantee that she has big plans for it. The tension between Elena and Katherine has always been high and now that Elena is a vampire this will only increase, add Katherine's involvement with Jeremy's fate to this already volatile mix and it's going to explode.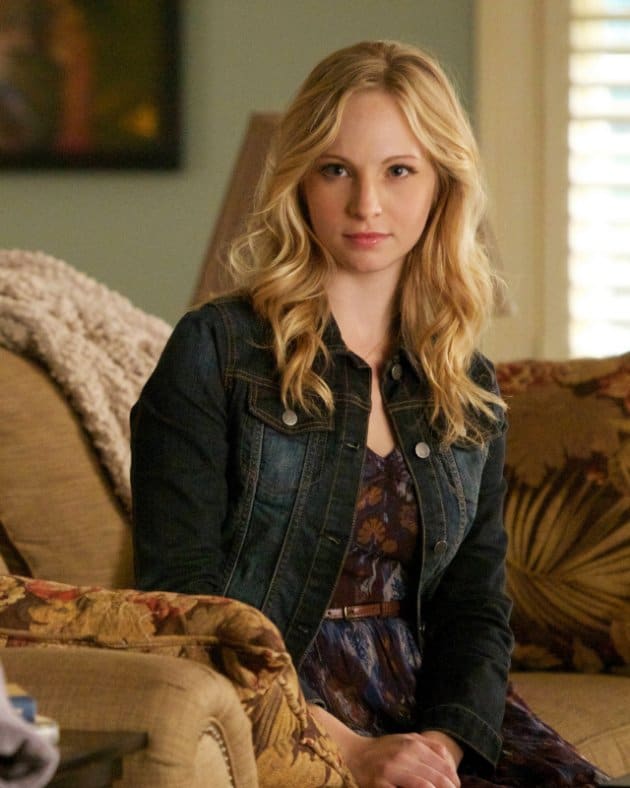 There is another departure to deal with and even though Tyler (Micheal Trevino) leaves Mystic Falls in one piece, he does so in a heartbreaking way. This isn't the first time that Tyler and Caroline (Candice Accola) have been separated by distance, but it is unclear how long Tyler will be away. Their goodbye on the Gilbert porch of first kisses/break-ups produced some A+ work from both Accola (whose tears have a habit of making me misty eyed) and Trevino. Klaus (Joseph Morgan) believes that he has shown kindness, forgiveness and pity; by his standards he has but I don't think this is particularly comforting to Caroline in this moment.
Klaus does help out with decoding Jeremy's tattoo and tells Rebekah (Claire Holt) that there is only one dose of the cure. An act that could be read as selfless, but if Rebekah takes it then no one can use it against Klaus. I'm not sure why they all thought that there would be an endless supply of the cure, but hope can be rather powerful. The debate then flips from 'would you take the cure?' to 'who is the one person who deserves the cure?' Once again there are a lot of motives at play and the Rebekah/Elena/Stefan alliance is broken rather quickly. Stefan (Paul Wesley) would give his happiness up for Elena and Rebekah knows this, as does Damon (Ian Somerhalder) who ends up spending most of the episode getting tortured.
Last week felt like an exposition dump and this cut into the tension of this spooky destination, this episode is the opposite and they managed to sustain tension throughout. One sequence that stands out for information well distributed is when it cut between Mystic Falls and Vaughn telling Damon that there was only one dose of the cure. This is how you keep the audience engaged and reveal a twist. The scenes in the caves are also well done and there was a general horror movie vibe throughout.
Other thoughts
– Caroline wouldn't take the cure and she really has become a much better character since she became a vampire, it is easy to understand why she wouldn't.
-Vaughn has some pretty nifty weapons in his bag of tricks, one that even manages to bring down Rebekah (temporarily).
-If Jeremy is really dead then who will be the next Hunter?
-Jeremy's ghost seeing ability comes in useful as he immediately knows that Grams is not really Grams.
-I'm surprised that they haven't used the "Bonnie the Teenage Witch" joke before; sadly Bonnie does not have a cat named Salem.
-Considering Shane is meant to be an expert in all things Silas he gets fooled pretty easily.
-Elena coming to terms with who she now is as a vampire can only be a positive thing, as this character has lost her way since becoming a vampire. Sire bond or not, Elena needs to take charge of who she is.
This is a big episode as we say goodbye to one character for an unknown amount of time and another main character appears to have a more permanent goodbye. This ups the stakes (no pun intended) and will propel the story forward and this is something this season needs. While I will be sad to see both of these characters depart, I also think that this development will add momentum. 

Watch a promo for next week's episode "Stand by Me" here.