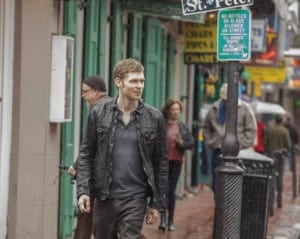 Tonight marks the first real possibility of a Vampire Diaries spin-off. The show has created what's known as a "back door pilot", which will essentially set the stage for a possible spin-off focusing on Klaus and his siblings set in New Orleans.
In "The Originals", Klaus travels to New Orleans after Katherine warned him that there's a witch there plotting against him. Eventually, both Elijah and Rebekah travel there as well and reunite with their brother. And another Mystic Falls resident turns up: Hayley, who is in town searching for information about her family.
The CW has released a behind the scenes look at tonight's episode, featuring our regular cast members who might be making the jump and guest star Charles Michael Davis, who plays Klaus' former protégé (and present self-proclaimed king of New Orleans), Marcel.
Don't miss tonight's new episode of The Vampire Diaries at 8:00 p.m. ET/PT on The CW. You can also browse through photos for the episode here or watch a sneak peek here.
Visit our Vampire Diaries page for spoilers, reviews, sneak peeks and more.
http://youtu.be/Fw84FI8I0gQ