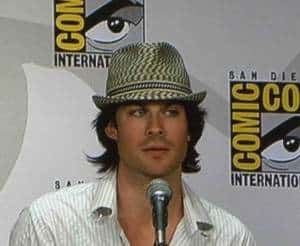 We started in the press room of The Vampire Diaries this year, which was so busy we only really had time speak with executive producer Julie Plec and stars Paul Wesley and Candice Accola. Then it was over to the Vampire Diaries panel, where the three people we interviewed were joined by EP Kevin Williamson and stars Nina Dobrev, Ian Somerhalder and Joseph Morgan.
When season 3 opens, The Vampire Diaries will have jumped forward a few months in time and the next big event will be Elena's birthday. Elena will be dealing with even more adult responsibilities in season 3, especially with trying to act as a guardian to Jeremy now that they don't need a guardian living in their house anymore.
Caroline will be tapping into her season 1 self and will be working hard to plan Elena the most perfect birthday party. We'll see how the time in between seasons 2 and 3 will have affected her relationship with Matt after he dumped her and we'll also see her growing friendship with Tyler and what that will lead to. We tried to ask Candice about Caroline's interactions with the new character Becky, but she didn't actually know much, so chances are that Becky won't be first appearing in the season 3 premiere.
We know that season 3 will be introducing us more to the Originals and it was confirmed that we will definitely be seeing Elijah again in season 3.
Bonnie and Jeremy will be going through their own problems. Bonnie has found a really nice relationship with Jeremy and brought him back to life and now he's getting ghostly visitations from two ex-girlfriends. Expect a creepy ghost story and an emotional one. They'll be examining this new development right away when season 3 begins.
Damon, meanwhile, isn't too happy with his current lot in life. He tried so hard to turn Stefan evil in seasons 1 and 2 and to get him to admit to his vampiric nature, but now Stefan is going off the rails and joining forces with someone that Damon hates. Damon will sort of be forced to act as a hero but will definitely resent it. However, he won't be acting like the old Stefan. EP Kevin said that Damon's story is like 'one step forward and three steps back'. He wants to kill people but his relationship with Elena tells him that doing those kinds of things is not okay, so it's a constant struggle. And while Elena will be struggling with 'loving both of them'as Katherine had told her in the finale, she and Damon can't just jump into a relationship because there are too many issues and complications.
In the meantime, we'll be seeing a much darker side of Stefan. We already know that Stefan doesn't want Elena to see his darker side, so it won't be shocking if their relationship is affected by his actions. Stefan will be dealing with his inability to control himself when he gives himself over to his monstrous side. Paul said that Stefan drinking human blood and giving into those urges will make him forget his ultimate mission, which is to protect Elena.
Below are two videos we shot in the press room, as well as some photos from the panel.
[imagebrowser id=1103 template = flipped]
clarissa @ tvovermind.com
twitter.com/clarissa373
twitter.com/tvovermind