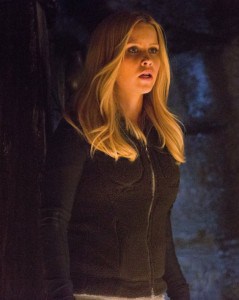 We remain on the mysterious desolate island tonight on The Vampire Diaries and the group has split up as they continue to look for the cure. This isn't by choice as Shane (David Alpay) manipulated the situation so he would have the people that he needs to find the cure; Bonnie (Kat Graham) and Jeremy (Steven R. McQueen). Damon (Ian Somerhalder) has run into a Hunter, which as you can imagine is not so great for a vampire and it is now up to Stefan (Paul Wesley), Rebekah (Claire Holt) and Elena (Nina Dobrev) to put all differences aside and find their friends.
Last week's episode revealed a whole lot of information about Silas and a bit of running around looking for Jeremy and not much else. It felt as scattered as the group and rather disjointed so hopefully this week will be able to blend both action and the drama in a more cohesive manner. One aspect that really worked was the Rebekah/Elena/Stefan dynamic and the conflict between these characters getting resolved. Resolved might not be the right word as I'm sure both Rebekah and Elena dislike each other, but a ceasefire has been called as they are the only ones who can stop Shane and whatever crazy plan he has set in motion.
There has been an issue with Elena since she became a vampire and it isn't just down to the sire bond and this transformation seems to have sucked the life out of her (sorry for the terrible pun). When Caroline (Candice Accola) became a vampire it instantly made her character more appealing, but with Elena it has done the opposite. Caroline was one of my least favorite characters in season 1 and becoming a vampire empowered this character, whereas Elena always felt like a strong character as a human so this transition was never going to have the same impact as it did with Caroline. Perhaps the issue is that because we have Katherine, Elena has to be a very different kind of vampire to her doppelganger and they just haven't found her voice yet.
Stefan further explains his reasons for wanting the cure to Elena, as you can see in the sneak peek below and reveals why he hasn't told her about it before "because it has nothing to do with you." Sounds a bit harsh written down, but it isn't all about Elena and nor is the reason why everyone is on the island looking for the cure. Rebekah looks less than thrilled with Elena and Stefan's renewed friendship.
Across the island the magical properties of this location will start messing with the characters as Jeremy has to help Bonnie recognize what is an illusion and what is real. Shane is also having conversations with his dead wife Caitlin (Camille Guaty) and she is the reason why everyone is here in the first place; can Shane trust what he is being told? A new piece of information about the cure will be revealed tonight and this will change the stakes for everyone; what do you think this will be?
Damon has encountered a dangerous obstacle on the island that is not an illusion; another one of The Five. Vaughn (Charlie Bewley) is another Hunter and we know that Hunter's instinctively want to kill vampires, but Vaughn might have some torture in store for Damon. Why is there another Hunter on the island?
Back in Mystic Falls, Caroline and Tyler (Michael Trevino) are attempting to translate the code on the Hunter's sword, but realize they need to ask Klaus (Joseph Morgan) for help with his project. Klaus is still stuck in his Gilbert house prison and after last week's confrontation that almost ended with a dead Caroline this might be a difficult task. Klaus also wants to find the cure though, so it might not be as difficult as expected.
Watch a clip from tonight's episode "Down the Rabbit Hole" below and you can see promo video and photos for this episode here and here.
http://www.youtube.com/watch?v=LAZestXDKGQ&version=3&hl=en_US