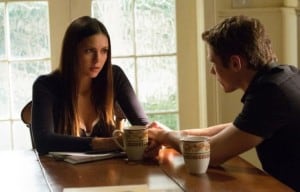 Last week's episode of The Vampire Diaries finished on a devastating note due to the little matter of finding the cure. To get the cure they had to awaken Silas and to do this Silas had to feed. Thanks to a timely return by none other than Katherine (Nina Dobrev) who also happened to be performing her tried and tested Elena impersonation, Jeremy (Steven R. McQueen) ended up as Silas' lunch. In the process he also got his neck snapped; is Jeremy really dead?
Jeremy has been killed on several occasions but thanks to his ring and Bonnie's magic he has always been brought back from the dead. It's different now as he is a Hunter which makes him a supernatural being and so even if he is wearing his ring, it probably won't work on Jeremy any more. If he is really dead then this will deal a huge blow to Elena; Jeremy is the one person who has helped keep Elena tethered to her humanity. This will be one concern of all those closest to Elena as it is unclear as to how she will react when the tragedy sinks in. All of Elena's friends will have to put any differences aside to help her deal with this situation and this means we might get to see all bad feelings about romantic choices forgotten for the time being as Damon (Ian Somerhlader) reaches out to his brother.
They return to Mystic Falls tonight and so Elena will be surrounded by friends, but also memories of the many people that she has lost. Friends such as Caroline (Candice Accola) and Matt (Zach Roerig) will be there for Elena and as you can see in this extended preview, Matt suggests that not all hope should be lost. Hope is often a theme on this show; Stefan (Paul Wesley) and Elena talked about hope and not losing it at the start of this season, but then Stefan told Shane (David Alpay) last week that Shane had hope and now it is gone. Stefan is not always positive when it comes to this notion and so tonight he will have to figure out a way to convince Elena that her brother is dead (if he is really dead, of course).
This method includes the return of Meredith (Torrey DeVitto) who will have to tread carefully with Elena as she doesn't want to be on the wrong end of Elena's emotions and Elena will be incredibly unpredictable tonight. Bonnie (Kat Graham) would be a major asset but as this sneak peak reveals, Bonnie is still on the island with Shane. Shane tells Bonnie the news of the tragedy that occurred after Bonnie was stabbed, but also explains that Silas has the power to resurrect. Will Bonnie trust Shane after everything he has done? Bonnie will be needed back in Mystic Falls, for her magic skills and because she is one of Elena's best friends. Bonnie and Jeremy had just got close again and so this will be devastating for Bonnie too; will she be able to keep her new power under control?
Death is something that is common on The Vampire Diaries and there have been many memorials for those who have passed (including the heartbreaking "Memorial" from earlier this season). If Jeremy is really dead, then this one might hit the hardest, as Elena becomes the last Gilbert. Katherine has once again become public enemy number one as it was her actions that led to this moment. We don't know what Katherine's motives are for wanting the cure, nor when she will make another appearance, but when she does expect fireworks.
For a look at a promo and sneak peek from tonight's episode "Stand by Me" head here and here.