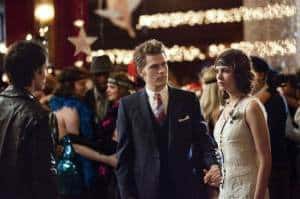 We'll be getting one more dance before the end of the season on The Vampire Diaries. In the upcoming April 26 episode, titled "Do Not Go Gentle", Mystic Falls High will be hosting a 1920s Decade Dance. All of the kids will, of course, be in attendance. Bonnie is hitting up the dance with her new love interest Jamie (guest star Robert Ri'chard). Elena is encouraged by Caroline to ask Stefan to be her date, which is just going to mess up the love triangle even more. Caroline also continues to be caught between two men. We know that Tyler returns to Mystic Falls in the upcoming April 19 episode and is suspicious of the growing "relationship" between Caroline and Klaus. In this episode, he attends the dance, determined to sweep Caroline off her feet, but Klaus crashes the party and tries to come between the newly reunited couple.
The dance, of course, ends in disaster when the Salvatore brothers have to recruit Matt, Jeremy (who is back in Mystic Falls) and Bonnie to help undo a spell. Meanwhile, Alaric continues to go down dark paths when an unexpected ally tries to help him give in to the bad urges he got from the ring, while Damon and Meredith (guest star Torrey Devitto) try to figure out how to deal with Alaric.
For more coverage of the show, including sneak peeks, spoilers and more, browse and bookmark our Vampire Diaries page. You can also catch the newest episodes from Hulu on our page!