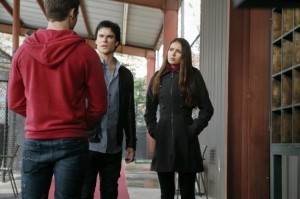 The Originals have proven themselves near impossible to kill on The Vampire Diaries. In the previous episode, Stefan and Damon caught a break when they managed to get their hands on some more white oak wood. Recruiting Matt, Elena and Caroline, they devised a plan to kill one of the Originals in order to kill them all. The plan would have worked – because they actually managed to kill Finn – but Klaus forced Bonnie to do a spell to unbind him and his siblings. Now the Originals are down one member. But Finn's murder actually revealed a crucial piece of information: if an Original is killed, the vampires that stem from their bloodline will also die.
This, of course, causes a problem. First, we're not entirely sure who sired Rose (who later went on to create Katherine, which caused the Salvatore line). Second, the group knows that Klaus sired Tyler. If they even attempt to kill Klaus, all of their supernatural friends could be put in jeopardy.
The Vampire Diaries is on hiatus until April 19. In the next episode, Elena and Damon head to Denver to check up on Jeremy and also to see if he can use his special supernatural powers to find out more about the vampire bloodlines. Unfortunately, they run into a bit of trouble when they realize that Kol has been keeping an eye on Jeremy. Tyler will also be returning to Mystic Falls, but he's very suspicious of Caroline and Klaus' budding "relationship".
For more coverage of the show, including spoilers, photos, and sneak peeks, view our Vampire Diaries showpage.