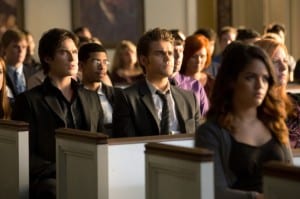 There's been no shortage of death in The Vampire Diaries, but they don't often have big memorials.  In the upcoming second episode of the season, titled "Memorial", there's a big church gathering.  From the look of these photos, it doesn't end well (a shocking occurrence in Mystic Falls, I know).
You might assume that this is a memorial for Elena, who will (presumably) have to transition into a vampire in the upcoming season premiere, but Elena can be spotted in several photos.  Who else is missing?  Tyler/Klaus and Caroline are in the photos, as are Damon, Matt and Jeremy.  Any guesses?  This episode will also apparently mark the beginning of Jeremy's big season 4 arc.
You can also view a sneak peek for the season premiere here, or browse through photos from the premiere here.