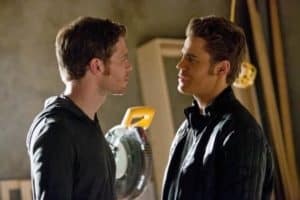 The January return of The Vampire Diaries had everything: running, death threats, the return of Klaus, Stefan getting slapped and a big kiss between Elena and Damon. In this week's episode, Elena was worried that Klaus hadn't yet made a move against them. That anticipation quickly flew out the window when Klaus dropped in on Damon and Elena at the Mystic Grill and said he wanted them to get his coffins back from Stefan. Elena had no desire to make a deal with Klaus at that time and Damon wasn't too keen on playing errand boy. So Klaus compelled Jeremy to step in front of a car and nearly killed him.
That caught Elena and Damon's attention. They headed to the abandoned witch house to try and talk some sense into Stefan, who dismissed Elena's concern for her brother as "not my problem". That led to a slap and what seems like the end of their relationship – at least until Stefan stops acting like an uncaring jerk.
So Elena came up with a new plan that involved giving Rebekah's body back to Klaus, but warned him that she knows what he did to their mother. Instead of incurring his sister's wrath, Klaus decided to leave her daggered. Meanwhile, Stefan admitted to Damon that he screwed up their plan to kill Klaus in the previous episode out of concern for his brother. This has led to an uneasy truce between the two.
But it didn't stop Damon from kissing his brother's ex (?) after she had him compel Jeremy to leave town. For more about this week's episode, read Emma's detailed review.
In the January 12 episode of The Vampire Diaries, Caroline returns after being absent this week and the gang celebrates her birthday, despite the fact that she's not really in the mood. Bonnie is concerned when Elena tells her that Jeremy plans to leave town and Tyler is attempting to fight against Klaus' orders.
Updated: Watch a sneak peek from the January 12 episode.
Watch a trailer for the January 12 episode of The Vampire Diaries below, beginning at 8:00 p.m. ET on The CW. You can also view photos for the episode here.