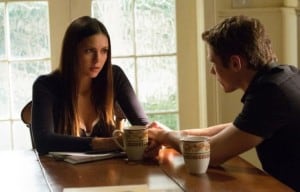 Bonnie and Jeremy managed to find Silas and the cure in this week's new episode of The Vampire Diaries, but, like everything, it's not that easy.  First, Klaus managed to translate the text on Jeremy's Hunter marks and on the Hunter's Sword and discovered that only one vampire can take the cure.  That started a fierce competition among the inhabitants of the island.  Rebekah wants it for herself, while Stefan and Elena want to bring it home to cure Klaus so that he doesn't go on a murderous rampage in retaliation for Kol's death.  And a Hunter that Damon met on the island (Vaughn) wants the cure in order to raise and kill Silas.
After finding Silas' body, Jeremy and Vaughn fought over who should get the cure, but Elena crashed the party and knocked Vaughn out. Â But in a surprise turn, Elena's not really Elena…she's Katherine and she used Jeremy's blood to wake up Silas and he immediately snapped Jeremy's neck while Bonnie watched as she bled on the floor from a stab wound, courtesy of Vaughn. And Klaus agreed to let Tyler escape town before hunting him down, so Tyler and Caroline shared an emotional goodbye.
In next week's episode, Stefan brings Elena and Jeremy back to Mystic Falls and Caroline is worried about Elena's state of mind after the death of her brother. Â Stefan asks Meredith and Matt for help, but Elena seems inconsolable. Â But is Jeremy really dead or is there a chance to bring him back?
Watch a preview below for the February 21 episode of The Vampire Diaries on The CW.
Visit our Vampire Diaries page for reviews, spoilers, photos, sneak peeks and more.
http://youtu.be/YojcJgInE20