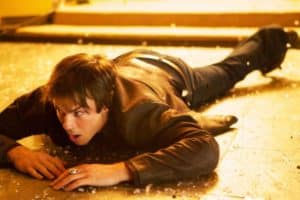 A new hunter was introduced in this week's episode of The Vampire Diaries.  Connor blew into Mystic Falls and immediately set out to kill himself some vamps.  Tyler was among the first targeted, but he was fortunately able to escape.  Elena, meanwhile, tried to come to terms with drinking blood.  Stefan's idea of starting her off on animal blood didn't agree with her, while Damon's idea of drinking human blood didn't sit well with her.  Her barely-controlled urges for blood nearly led to her being exposed during a memorial service for the recently deceased Council members, but Matt stepped in with a solution and proved that he is a true and loyal friend.  For more on the episode, read Emma's full review.
In next week's episode, Connor continues to uncover the supernatural creatures in Mystic Falls and also approaches Jeremy about working with him.  Given the strange tattoo they both share, we hope this doesn't mean Jeremy becomes a stone-cold hunter like Connor!  Elena decides to head back to school in hopes of finishing her senior year, but Rebekah's presence makes Elena angry, threatening to expose her secret.    Tyler gets a surprise visit from an old friend named Hayley (Phoebe Tokin), who helped him break his sire bond with Klaus.
Watch a preview below for the October 25 episode of The Vampire Diaries, airing at 8:00 p.m. ET/PT on The CW.
http://www.youtube.com/watch?v=RE64pR86Ypo&feature=plcp