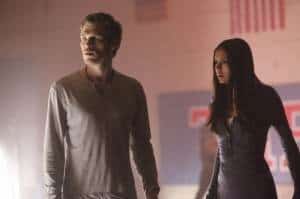 The midseason finale of The Vampire Diaries was full of twists and turns. Stefan lured Klaus back to Mystic Falls so that Mikael could kill him. Elena also daggered Rebekah, not trusting that she would actually turn against Klaus when the time came. Meanwhile, the high school gym flooded, so the Homecoming dance had to be moved to Tyler's house, as per Klaus' instructions.
Tyler continued to be compelled by Klaus, but managed to drug Caroline and get her out of the house, which was filled with hybrids.
Mikael's plans went to hell when Damon was unable to properly stake Klaus, who then killed Mikael using the special Original-Vampire-killing-dagger. For his assistance, Klaus freed Stefan from his compulsion. While Damon and Elena didn't understand why Stefan failed to follow through on his part of the plan, we learned that Stefan and Katherine actually stopped Damon's plans in order to save his life.
Unfortunately, The Vampire Diaries is currently on hiatus for the holiday season. But new episodes resume on Thursday, January 5 and it looks like we're in for one hell of a second half of the season. Klaus is out for revenge after the events of this most recent episode and no one is safe from him.
Updated: Read our detailed advance preview (with some spoilers) for the new episode.
Watch a trailer below for the January 5 midseason premiere of The Vampire Diaries.