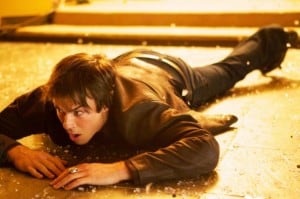 Damon and Klaus team up once again for the common good in an upcoming episode of The Vampire Diaries. 
What brings these two vampires together is fairly simple: Connor continues to dig into the secrets of Mystic Falls, including its supernatural elements, and also sets his sights on Jeremy as a potential ally.  Damon and Klaus team up with Dr. Fell in order to interrogate Connor about his plans, but that whole situation turns bad very quickly.
Meanwhile, Elena decides that she wants to continue living a normal life, despite becoming a vampire, so she heads back to Mystic Falls High for her final year of high school.   Her friends support her, but Rebekah's presence at the school makes Elena give in to her nearly uncontrollable anger.  Rebekah, meanwhile, seeks some help from April (guest star Grace Phillips).
Phoebe Tonkin from The Secret Circle will be making a guest appearance in this episode as Hayley, a werewolf who helped Tyler when he was trying to break his sire-bond with Klaus.
The CW has released a few photos for the episode, although we don't yet have our first look of Phoebe as Hayley.
Visit our Vampire Diaries page for an advance preview of the season premiere and more photos, sneak peeks and spoilers for season 4.