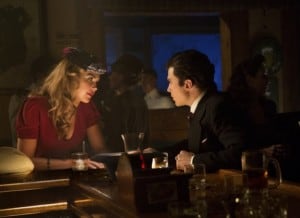 The Vampire Diaries is once again heading back in time in an early December episode!  Sure, this happens quite a bit, but this time the focus will be on the Salvatore brothers in the 1940s.
In "We'll Always Have Bourbon Street", Stefan tells Damon about a suspicion he has about Elena, leaving Damon with no choice but to look into the situation with his brother.  The Salvatores head to New Orleans as they also have flashbacks to their time there in 1942.  They're searching for someone who remembers their last visit and come across one of Damon's old girlfriends, Charlotte.  The CW warns that Damon is "faced with a heartbreaking decision".
Back in Mystic Falls, Caroline, Elena and Bonnie decide to have a girls' night, but Elena's delivery of some shocking news could throw the night off-track.  Finally, Hayley encourages Tyler to confront one of Klaus' hybrids and the situation soon spirals out of control.
Use the arrows above to browse through photos for the December 6th episode of The Vampire Diaries.
Keep an eye on our Vampire Diaries page for spoilers, photos, review, sneak peeks and more.