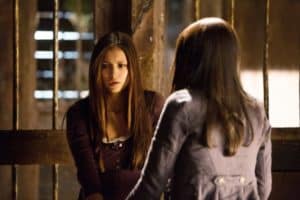 When The Vampire Diaries returns for its fourth season, it'll pick up shortly after last season ended.  The premiere episode, titled "Growing Pains", will tackle the huge cliffhanger in the season 3 premiere: Elena's death.  With vampire blood in her system, Elena is in the transition stage of becoming a vampire.  Of course, she's devastated about the entire situation – and Stefan isn't eager to see her become like him – so the Mystic Falls Scooby Gang is on a mission to try and figure out a way to save her.
Can it be done?  Bonnie seems to think there might be a way to travel to the other side and bring Elena back, but Jeremy is understandably worried about her messing with that kind of magic.  From the looks of the preview for the new season – and from what we've heard – we're going to bet that all of their plans don't succeed. The truth is, Elena is going to become a vampire, and everything that entails will play a big part of season 4.
What will this mean for her relationship with Stefan?  And what happens when she inevitably starts to relate to Damon more now that she'll be a vampire like him (not to mention the fact that she'll remember she met him first)?  Of course, Elena's not the only problem in Mystic Falls right now….the gang also has to deal with the fact that Klaus is inhabiting Tyler's body, unbeknownst to everyone except Bonnie.
Use the arrows above to browse through photos for the season premiere of The Vampire Diaries, airing October 11 at 8:00 p.m. ET/PT on The CW.