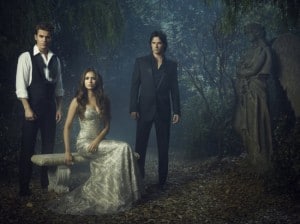 The third season of The Vampire Diaries ended on one heck of a cliffhanger: after dying with vampire blood in her system, Elena awoke as a vampire.
How will Elena make the transition to a vampire?  First, she and her friends will be scrambling to try and prevent it from happening at all, but I'm guessing their work will be in vain, because making Elena a vampire (and everything that entails) seems like a major story for season 4.  Will she turn away from Stefan, the Salvatore that she chose to be with last season?  Or will he turn away from her?  And if they aren't together, will Damon swoop back in again, or will everyone be too preoccupied with Elena's transition to worry about romance (Hah! Like that'll happen!).  Meanwhile, Jeremy will have to deal with the death and rebirth of his last remaining familiy member, Bonnie will be dealing with some dark magic issues, Caroline will have to deal with Klaus in Tyler's body, and everyone will have to deal with the arrival of a dangerous new vampire hunter.
The CW has released a trailer for the new season, so feast your eyes on it below!
For spoilers on the fourth season of The Vampire Diaries, read our coverage from the press room at Comic-Con and keep an eye on our Vampire Diaries page for spoilers, previews, photos and recaps for the show.  The new season begins on October 11 on The CW.