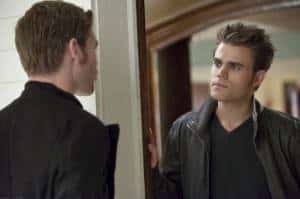 Esther had her own plans for the Decade Dance in this week's episode of The Vampire Diaries and they involved turning Alaric into a vampire in order to make him an unstoppable vampire hunter. But Alaric seemingly ruined her plan when he killed her before completing the process to become a vampire. While he said goodbye to all of his friends and was prepared to die, Bonnie interrupted that plan by force-feeding him blood while in a trance, thus making him into a vampire.
In next week's episode, Klaus wants to get out of Mystic Falls now that Alaric has become a serious threat. But before he goes, he wants to take Elena so he can have access to her blood. But when he drops by the Gilbert house to announce that he's taking the doppelganger, the Salvatores mount a plan to stop him from hurting her.
Watch a sneak peek below for the May 3 episode of The Vampire Diaries, airing at 8:00 p.m. ET/PT on The CW.
For more coverage of the show, including sneak peeks, photos, spoilers, the latest Hulu episodes and more, browse and bookmark our Vampire Diaries page.