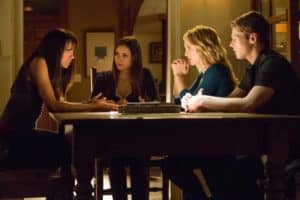 This week's Vampire Diaries ended in tragedy when Katherine orchestrated the awakening of Silas and he killed Jeremy.  Now she's run off with the cure and a main character is gone.  In next week's episode, we know that Elena is going to be grieving and desperately trying to figure out a plan to bring Jeremy back to life, but what of Bonnie?  Bonnie was stabbed by the new Hunter Vaughn and doesn't seem to know that Jeremy is dead when she mysteriously awakens in a forrest with Shane.
Shane tells her that Silas healed him after he was resurrected and while Shane goes on and on with his Up With Silas! mandate, Bonnie interjects that rescurrecting the dead is a bad plan.  Shane counters that she might not think it's such a bad idea when she learns that Jeremy has been killed.  But can Silas really bring him back?  Or is there no hope for Jeremy?
Watch a sneak peek below for the February 21 episode of The Vampire Diaries on The CW.  You can also watch a preview for the episode here.
Visit our Vampire Diaries page for reviews, spoilers, photos, sneak peeks and more.
http://youtu.be/52EL38n58sM