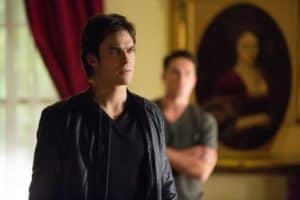 Connor managed to escape Klaus' home in the most recent episode of The Vampire Diaries.  There's a very good indication that this might work to Klaus' benefit since more of the map in Connor's tattoos are revealed for every vampire that he kills.
But Klaus may not have entertained the possibility that Connor will take Jeremy, Matt and April hostage at the Mystic Grill next week (thereby putting Jeremy – the only person who can see the tattoos – in danger).  This, of course, leads to a big argument between Damon and Stefan over how to handle the hostage situation.  Damon seems in favor of storming the Grill and killing Connor outright and has the support of Caroline and Sheriff Forbes.  Even Elena seems in favor of this plan.  But Stefan is dead set against it until they know exactly what they're dealing with, which might include the possibility of Connor having werewolf venom.  This debate puts Elena smack dab in the middle of a Salvatore brother power struggle once again.
Of course, the whole debate becomes moot when Klaus sends one of his hybrids into the Grill to confront Connor and the situation spins radically out of control.
Watch a sneak peek below for the November 8th episode of The Vampire Diaries.  Browse through photos for the episode here and watch a preview here.
http://youtu.be/c8cfAvgzg-4