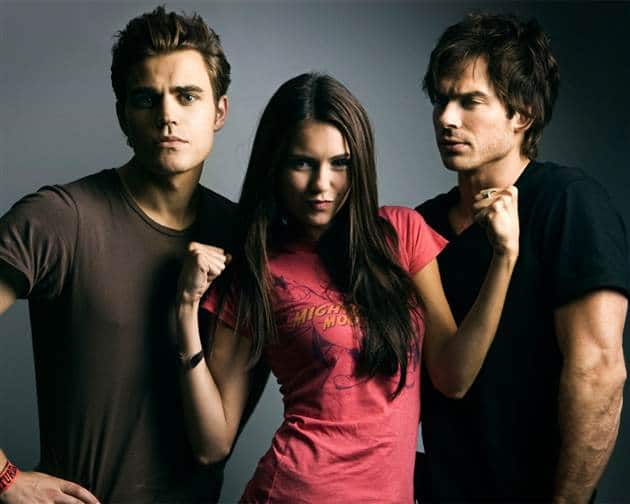 Lots of great spoilers have hit the web today regarding the rest of the season for The Vampire Diaries. Most of the spoilers below came either directly from the cast and crew or from a screener of the next episode that was shown, titled "A Few Good Men"
Lots of News about Isobel!
"The first one back is pretty killer, because there's a lot of new information revealed for our characters that's going to take us all the way through to the end of the season," Plec said in a group interview on the red carpet. "Alaric and Elena and Damon all learn something pretty earth-shattering about Elena's birth mother, and crazy things happen between Alaric and Damon that sets up a rivalry for them for a long time." Just wait til you see the Alaric/Damon fight scene in this episode! In case you forgot, Isobel is Elena's birth mother and Alariac's (Matthew David) murdered wife. Thanks to flashbacks we get to see what Isobel was up to when she was married to Alaric. You don't want to miss this episode!
New Guest Stars…
"Melinda Clarke, who's joining the show, she's with us for as long as she'll have us, basically," Plec said on the red carpet. "We're big fans of her. Spencer Locke is with us for an episode. Stephen Martines is with us for a few episodes, who is very sexy and very, very smoldering."
Melinda Clarke makes her debut as Mrs. Donovan in "A Few Good Men."
Uncle John comes to town
Jonathan Gilbert, played by David Anders (Alias, Heroes, and 24) will join the show giving a direct rival who can go toe to toe with Damon (Ian Somerhalder). We'll aslo learn more about the Gilbert family.
"Uncle John is going to sort of come in and stir things up for Damon and, oddly enough, Jeremy," Williamson said. "So I think Jeremy and his relationship with Anna now that he's going to learn–"
Williamson seemed worried of spoiling too much and turned to Plec to finish the comment. "The Gilbert legacy dating back to the original Jonathan Gilbert back in 1864 has been very much about finding and destroying vampires in Mystic Falls," Plec said. "So [Jonathan is] putting Jeremy into that situation where he has the option to follow his family footsteps or not."
Damon must becoming that loving big brother…
"There's a shift in the dynamic where Stefan has always been the guy who's trying to curtail Damon and try to keep him in check, trying to keep him from killing people," Williamson told the audience. "The dynamic is going to shift in which Damon's going to have to try to be the big brother that loving big brothers have to be."
Plec added, "They share the common interest now, which is keep the town off their back. Later in the season, when David Anders' character arrives in town, he's very intent on making the town aware of the vampires again, so Damon and Stefan, who have been at odds, really need to work together to make sure that their secret stays safe and that they can stay in town. Oddly enough, Damon has decided he kind of likes being in Mystic Falls, and he's not too quick to take off, doesn't really want to go anywhere yet."
Get ready for more flashbacks
Williamson told the panel that there will be more revealed about the emotional history between Damon and Stefan in an upcoming episode he's scripting. "My favorite is watching some of the flashbacks where you get to see Damon in such a vulnerable place," Williamson said. "You can see his essence, you can see his relationship to Stefan at a time when their relationship was different. I say that now because we're writing another flashback episode where we show the next chapter of their journey. It's an interesting relationship."
If you're expecting a cliffhanger at the end of the season, think again…
There's nine. You read that right, there are possibly going to be nine cliffhangers in the season finale!
"We have nine cliffhangers in the last episode," Plec warned the panel audience. "It could be seven," Williamson clarified, "Act six is just one after the other, not really cliffhangers but big story points where you'll hopefully tease the next season, but at the same time just answer things, reveal things, create more questions and just sort of end with a bang."
The Vampire Diaries airs on The CW on Thursdays at 8 p.m.
Source: The SciFi Wire