There was a choice that was made at the end of the last season of The Vampire Diaries – a choice between two brothers, but then a car drove off Wickery Bridge and everything changed. The woman who made the choice changed and so have some of the feelings that were felt before that night.
Elena (Nina Dobrev) has been dealing with so much through her transition and this is magnified by the consequences of killing a hunter. They were concerned that Elena would not be able to handle killing a human and it just so happens that Elena kills the one human that will haunt her until she kills herself. It's all about the monster within and the repeated use of the word 'monster' and deserving to die is a statement we've heard many times before (normally Stefan talking about the Ripper). Each sequence with Connor (Todd Williams) is creepy and it is truly horrifying to both Elena and the viewer when she plunges the knife into Jeremy's (Steven R. McQueen) neck.
The use of Katherine is rather inspired and everything she said to Elena about Stefan (Paul Wesley), Damon (Ian Somerhalder) and her existence might be a hallucination, but those thoughts are all there within Elena. Katherine isn't Elena, but it made sense for her to come on this frightful journey with her and despite none of it being real it was good to see Katherine again. The other person who Elena saw is her mother, a trick of the mind that took a different approach to instigating Elena's suicide. This was the most effective for Elena and the point where she took her daylight ring (on Wickery Bridge of course). Elena fears disappointing people and by becoming a vampire she has truly turned away from the Gilbert family legacy.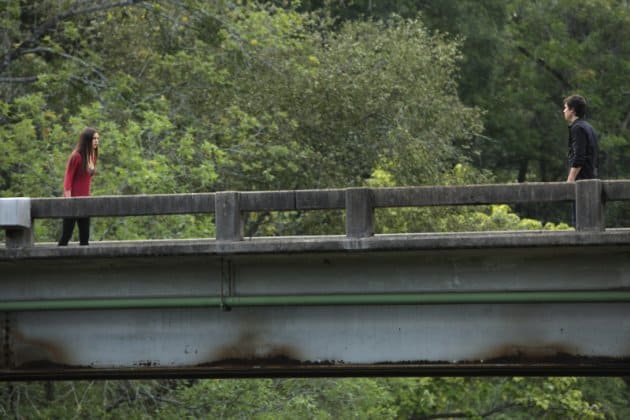 The central love story of The Vampire Diaries has been changing this season and the source of Elena's trust is no longer Stefan, despite his best intentions to do all he can. Damon is now the one who Elena seeks out when she needs help with her vampire needs and this break-up has been coming for a few weeks now. Stefan understands that something has changed and rather than fight it, he says he can't do this anymore. This final scene on the porch of first kisses is going to divide some fans of the show; some will rejoice, while others will want to throw something at their screens. The other option does need to be explored and it is clear that this season has been pointing towards Damon and Elena. Damon doesn't manipulate it either, he calls Stefan when Elena stabs Jeremy and he tells Elena why Stefan has been lying to her. This isn't to say that he won't enjoy the break-up news, but he does also have his brothers back.
There is more than one rocky relationship in Mystic Falls this week and a fake break-up looks like it could lead to a real one with Tyler (Michael Trevino) and Caroline (Candice Accola). Their ruse to have Klaus (Joseph Morgan) believe that they had broken up has somewhat backfired now that Caroline has to go on a date with Klaus – will he draw her another pretty picture? The matter of the dead hybrid at Jeremy's hand also sours this drinking party. Hayley (Phoebe Tonkin) proves that she is useful, by not only calling Caroline, but also with her unsiring skills. There are definite hints that Hayley has feelings for Tyler so this hybrid/werewolf/vampire situation is going to get even more complicated.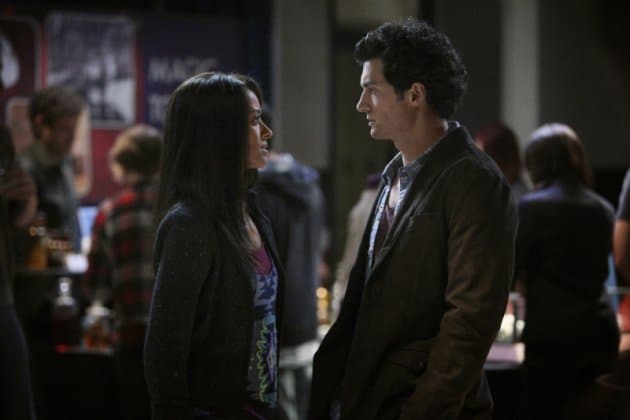 We still don't know exactly what Professor Shane's (David Alpay) plan is, but we do have a few more pieces of information. He was on the receiving end of a phone call a day from Pastor Young and this increased to ten calls on the day Young exploded his farm house. Shane also happens to think that witches are the most powerful of all the supernatural beings. The tale of Silas sounds like it could be ancient legend or is this part of the Professors origin? Whoever he is, he knows that there is a new hunter and Bonnie (Kat Graham) trusts him.
Other Thoughts
-I have said it before and I will say it again but the Gilbert kitchen of stabbing doom really needs to be stocked with non-sharp knives. Not useful for cooking, but it will prevent another unfortunate and bloody incident.
-An episode title that comes from Alfred Hitchcock's Psycho and it includes a shower scene and a big knife (just not at the same time).
-April (Grace Phipps) is still wondering where Rebekah (Claire Holt) is, but April does prove that she can be helpful by remembering where she recognizes Professor Shane from.
-So Klaus has been through the torment of killing a hunter or five, but his punishment went on for a lot longer; 52 years, 4 months and 9 days (sounds like a depressing spinoff show).
-Stefan needs to take this break-up in his stride and I really hope we get to see more badass Stefan over brooding, sad Stefan.
-Bonnie is mad that she has been left out of the Jeremy loop and Damon astutely tells her that "the witch who loses her power gets left out of the important conversations."
-Jeremy makes his first vampire (or hybrid) kill since he got the mark and it begins to grow; are there consequences beyond this? This seems likely, as witches love their consequences.
-Not one but two nods to Alaric (Matt Davis), who is gone but certainly isn't forgotten by Damon. It's also rather sweet that Matt (Zach Roerig) still refers to him as Mr Saltzman.
-Matt is becoming quite the investigator as he is the one that discovers that Pastor Young was calling Professor Shane.
Now that Elena has experienced a giant dose of guilt, hopefully it will end the 'poor Elena' cycle. I understand that they have to show the pain of transition and this break-up is also going to impact the mood of the show, but I'd also like to see something beyond saving Elena each week. Elena has shown an inner strength on countless occasions and it would be good to see this pushed to the front and center of the show. This goes beyond who she is dating and it is intriguing to think how this break-up will shift the dynamic of The Vampire Diaries.
The Vampire Diaries returns in two weeks for the Miss Mystic Falls Pageant. To watch a promo head here and for photos from the episode head here.