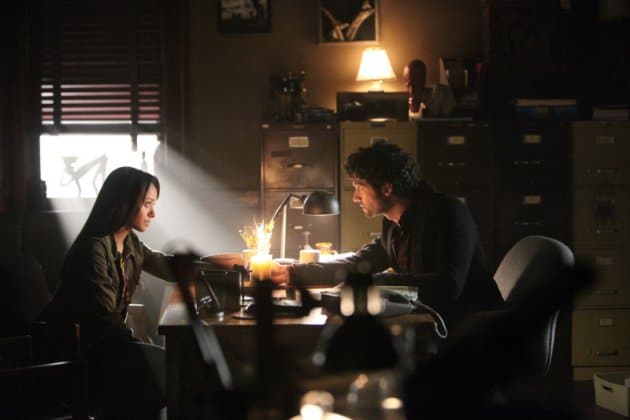 It was suggested last week in a discussion on Twitter that this season of The Vampire Diaries has turned into a version of The Cannonball Run as the hunt for the cure heats up and new teams are formed (please let a cross country race happen). Tonight's episode will continue this theme as new partnerships are formed and other ones are questioned; unfortunately some will end up in the middle of this chase.
The Stefan (Paul Wesley) and Rebekah (Claire Holt) is tentatively taking shape as they figured out that they could benefit from each other having nothing, some fuzzy logic perhaps but thanks to Shane's (David Alpay) bragging last week, Rebekah has some vital information. Rebekah didn't believe that the Silas stories were true, but her brother Kol (Nathaniel Buzolic), who returned last week definitely does and is fearful of him. As you can see in this preview clip Rebekah wants to steal Silas' headstone and then use it as a bargaining chip to get Bonnie (Kat Graham) and Shane on their side. The general idea is to leave Klaus (Joseph Morgan) at a disadvantage and it seems like Klaus isn't in control of the one thing he has.
Jeremy (Steven R. McQueen) was not particularly happy with Klaus barking orders at him last week and with Klaus' attempts to speed up the unveiling of the mark process; it isn't going to make things any better between the pair. Klaus has created 12 new vampires for Jeremy to kill and when he resists tonight, Klaus will use Matt's (Zach Roerig) life as leverage. This is not going to go down too well.
There will be danger for Jeremy from an unexpected enemy as Elena (Nina Dobrev) tries to negotiate with Klaus, will this come from Team Rebekah? Elena is of course on her way up to the lake house per Damon's request, but it looks like romance will not be on the schedule with all of this incoming peril. I'm still a bit wobbly on the whole sire bond rules and whether Elena is back under the bond now that Damon has asked her to do something again; hopefully this episode will be more explicit in the rules and where this couple stands.
Bonnie's father was introduced last week and he is now the new mayor of Mystic Falls, a position that should come with a warning (the same can be said for being a parent in this town). Mayor Hopkins (Rick Worthy) has questions for Shane regarding the Founders' Council deaths and Bonnie also has questions of her own for Shane. The power that Bonnie has doesn't cause her the same pain or side effects as the previous magic she used and this could be dangerous as there will be fewer limitations. Shane will push Bonnie to the edge of her powers tonight and perhaps she will be the 'enemy' that Elena has to look out for.
Watch a preview for tonight's episode here and to find out more about the Originals spinoff head here.