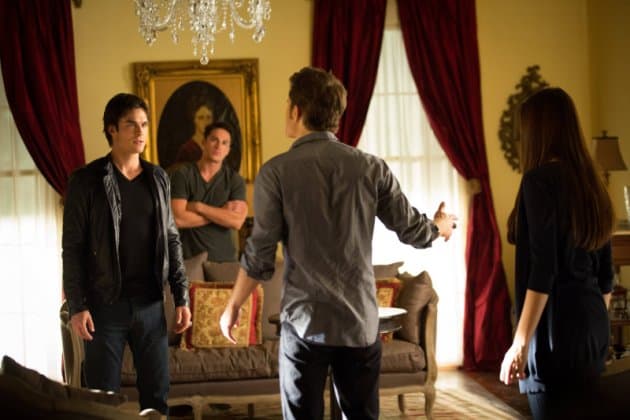 Connor (Todd Williams) is proving himself to be a formidable foe on The Vampire Diaries and tonight he will take it one step further by holding Jeremy (Steven R. McQueen), Matt (Zach Roerig) and April (Grace Phipps) hostage. One thing that can be counted on is that Stefan (Paul Wesley) and Damon (Ian Somerhalder) will disagree on the best course of action (as this sneak peek shows).
Damon and Stefan's relationship has always been contentious and thanks to their opposing personalities they don't tend to agree on how best to get results. Damon prefers the impulsive and straight to the point method, whereas Stefan likes to look at all the angles before rushing in. As we have seen both approaches have produced success and failure and as there are lives at stake (no pun intended) it is important that they devise the right plan. Both Stefan and Damon are stubborn so a compromise is hard to come by and Elena (Nina Dobrev) is once again caught in the middle; how will they resolve this mess?
Elena is also hiding something from Stefan as she has been less than forthcoming about her trip to college and the blood high she felt. As you can see in the sneak peek below, Damon teases Elena about this secret keeping and refers to it as a "classic shame spiral." Elena denies this, but how can she justify not telling Stefan what happened? Elena's new status as a vampire and the blood she has fed on has already been a point of conflict thanks to Damon blood sharing with Elena and this would create further issues. Will Elena tell Stefan the truth tonight?
The big mission tonight to save the hostages at the Mystic Grill will involve the hybrids and Tyler (Michael Trevino) would very much like to get revenge for the amount of times Connor has shot him (nine by his count). Hayley (Phoebe Tonkin) isn't a hybrid but she will be there to help and this might include an awkward meeting with Caroline (Candice Accola). Caroline has shown a jealous streak in the past, so how will she react when she is introduced to Hayley?
One person who could prove useful against Connor is Bonnie (Kat Graham), though Bonnie is currently having problems with her magic abilities. Last week Bonnie visited Professor Shane (David Alpay) who claimed that there are other ways to practice magic. This is all very helpful, except Professor Shane is the reason that Connor is in Mystic Falls; what are his motives for sending Connor on a vampire killing mission?
Watch a sneak peek from tonight's episode of The Vampire Diaries below.  Browse through photos for the episode here, watch a preview here and check out a review for last week's episode here.
http://www.youtube.com/watch?v=rz3eMzo34Ro&version=3&hl=en_GB