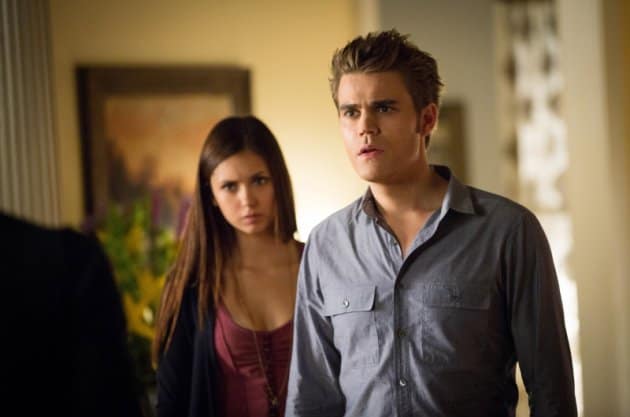 Elena and Damon joined Bonnie and Jeremy (and Professor Shane, at Elena's invitation) up at the Gilbert lake house in the winter finale of The Vampire Diaries.  The goal was to teach Jeremy to control his vampire killing hunter instincts.  While progress was slow-going, he was able to achieve his goal while using Bonnie as an emotional cornerstone.  And while Elena and Damon's relationship hung on through the episode, Damon decided to remain behind at the lake house with Jeremy while telling Elena to go home.
Back in Mystic Falls, Tyler and his hybrids came up with a plan to kill Klaus, much to Stefan and Caroline's dismay because they thought they still needed Tyler to find the vampirism cure.  Fortunately for them, Professor Shane had information about the cure that rendered Klaus useless at this point.  But Tyler's plan went to hell when Hayley managed to execute her own plan.  As Klaus slaughtered his now un-sired hybrids, Hayley confessed her treachery to Tyler and ordered him to run for his life.  In the episode's final moments, Klaus approached Carol Lockwood and killed her when she begged him not to hurt Tyler.
Watch a sneak peek for this episode
And April deceived Caroline into believing that she can be compelled.  Instead, she remembered Caroline saying the location of Rebekah's body and went to find her.
When The Vampire Diaries returns from its winter hiatus in January, Rebekah will have been awoken.
Watch a preview below for the January 17th return of The Vampire Diaries on The CW.  Keep an eye on our Vampire Diaries page over the hiatus for photos, sneak peeks and spoilers.