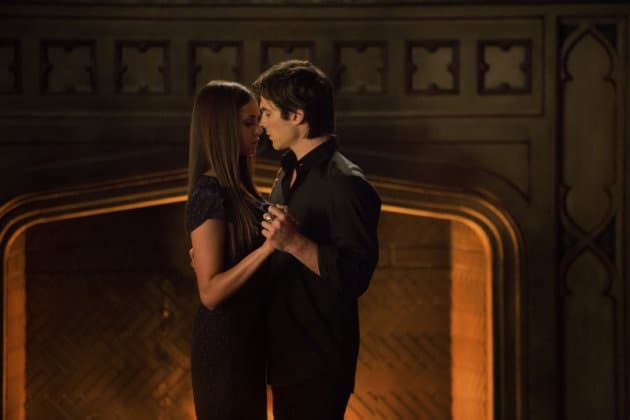 Elena suffered from terrible hallucinations in this week's episode of The Vampire Diaries.  As Klaus soon revealed to the Salvatores, killing a hunter messes with a vampire's mind (an experience he was intimately familiar with).  At first Elena kept seeing a vision of Connor that tried to pile on the guilt.  While that was moderately successful, she soon began seeing visions of Katherine.  Klaus decided to keep her locked up for everyone's safety, but she eventually escaped.  She ended up on Wickery Bridge and was prepared to kill herself until Damon stepped in and tried to stop her.
Meanwhile, Bonnie and Damon tried to find out more about the hallucinations and the suspicious Professor Shane by showing him the hunter's mark sketch.  He confirmed the source of Elena's hallucinations and also revealed the cure: Jeremy had to take over Connor's position as hunter.  Fortunately for Elena, Jeremy did manage to kill a vampire in the nick of time and Damon spirited her home just as the sun came up.
The Vampire Diaries is on hiatus next week but it will return at the end of November with the Miss Mystic Falls Pageant.  Elena and Stefan are on the outs once again, while Stefan and Damon argue about how to deal with Professor Shane.  Finally, Jeremy suffers from nightmares that have him turning to Matt for help.
Watch a preview below for the November 29th episode of The Vampire Diaries.  You can browse through photos for the episode here.
http://youtu.be/7M3La6Bls1I