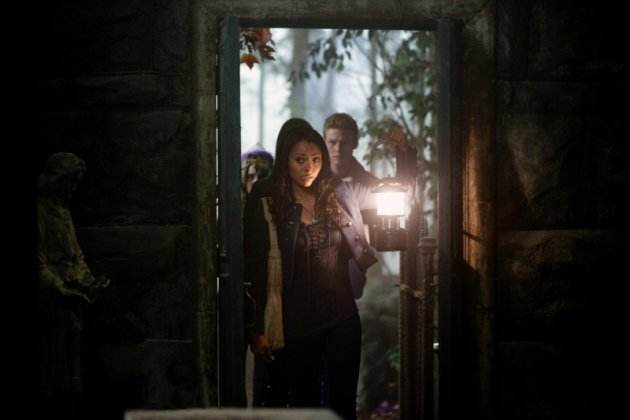 The Vampire Diaries returned this week from its long hiatus with a few shockers: Elena had Damon compel Jeremy to leave town in order to protect him from Klaus and Damon seriously kissed Elena. Naturally, the first thing made people sad, while the second thing made the fangirls squeal with joy. For more about the episode, read Emma's recap and review.
A new episode of The Vampire Diaries will be airing on January 12 and the Mystic Falls High gang will be celebrating Caroline's birthday, even if she's not really in the mood. But it's Stefan we're really worried about. After hiding the coffins of the Originals from Klaus in the witchy house, Stefan is determined to get his revenge on Klaus for destroying his life at any cost. He told Elena he didn't about Jeremy's safety if it interfered with his plan, which earned him a slap in the face from her. So Elena decided to send Jeremy out of town after Klaus nearly killed him and he was forced to decapitate a hybrid in order to save Elena and Alaric. Elena's horrified that her 16 year old brother is being forced into these situations.
But now Elena is forced to tell Bonnie that her ex-boyfriend is leaving town, giving Bonnie the chance to come to some sort of resolution with her relationship with Jeremy. Elena is also telling Bonnie the truth about how she convinced Jeremy to leave town, which doesn't please Bonnie at all.
Stefan will also be acting completely crazy in the next episode, as we can see from this trailer.
Watch a sneak peek below for the January 12 episode of The Vampire Diaries, beginning at 8:00 p.m. ET on The CW. You can also view photos for the episode here.