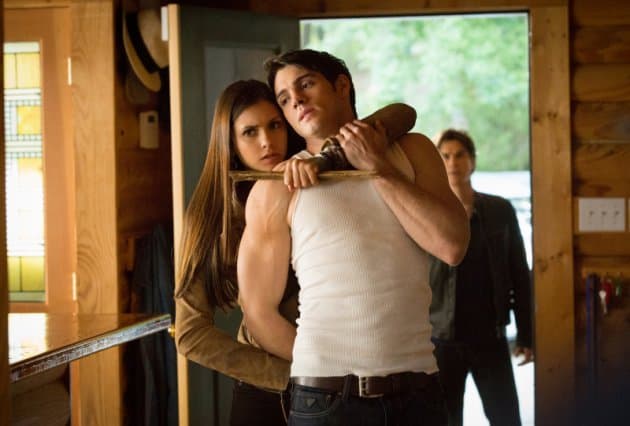 Holy cow!  Did all of you Vampire Diaries fans know what Jeremy was hiding under his shirts? 
Unfortunately for his sister, Jeremy's new role (and muscles) as a hunter has turned him against vampires.  In a recent episode, Elena was forced to vacate the Gilbert home and move into the Salvatore mansion because Jeremy was a danger to her.  Now Bonnie has taken him up to the Gilbert lake house to try to "cure" him of his vampire murdering tendencies.
It seems to be going well – what with Jeremy randomly chopping wood in a wifebeater – at least until Damon and Elena arrive.  Bonnie insists that they're here to help Jeremy, but he's clearly worried about what might happen.  And Damon isn't happy that Elena invited Professor Shane to help out.  Given the fact that he clearly has his own agenda, I'm not sure he's going to be a help to anyone but himself.
Watch a sneak peek below for the winter finale of The Vampire Diaries airing on December 31 at 8:00 p.m. ET/PT on The CW.  The show will return in January with new episodes.  Until then, keep an eye on our Vampire Diaries page for photos, spoilers and sneak peeks.
http://youtu.be/TXYGZ2ZQAZY